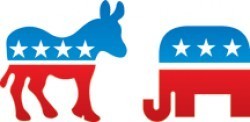 On Wednesday, July 22, Drake University will host Iowa Republicans potentially running for governor in 2010 for the next IowaPolitics.com forum.
Potential candidates will discuss the campaign at 3:45 p.m. in Levitt Hall in Old Main, 2507 University Ave.
Confirmed panelists are:
State Sen. Jerry Behn, R-Boone
Christian Fong of Cedar Rapids
State Rep. Christopher Rants, R-Sioux City
State Rep. Rod Roberts, R-Carroll
Bob Vander Plaats of Sioux City

IowaPolitics.com Des Moines Bureau Chief Lynn Campbell will moderate the program and questions will be accepted from audience members. The event later will be broadcast on the Mediacom Connections channel statewide and will be available for On Demand viewing on Mediacom Channel 1.
The forum is part of the "Cookies and Conversation" series presented by Drake University, IowaPolitics.com, Mediacom and Wal-Mart.
Doors open at 3:30 p.m. and taping of the show will be from 4 to 5 p.m. Free parking will be available in Drake lots at 26th Street and University Avenue and 25th Street and Carpenter Avenue.
The event is free and open to the public, but registration is required. Three registration options are available:
IowaPolitics.com is an independent, nonpartisan news operation offering a free Web site at www.IowaPolitics.com and paid subscriber products. For more information, contact Jim Greer at
greer@iowapolitics.com
or 515-309-2941.