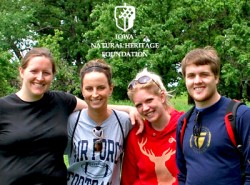 From left: Drake interns Amanda Atherton, Emily Barger, Kristi Anderson and Danny Akright.
The Iowa Natural Heritage Foundation has selected four Drake students as summer interns. The students fill a variety of positions at INHF, a leading nonprofit conservation group based in Des Moines.
Senior Kristi Anderson, an English major with a concentration in women's studies, is working as a program support intern. Anderson, who is from Fergus Falls, Minn., researches and writes grant proposals and facilitates events. Grants written by interns in the past have helped protect sites across Iowa.
Senior Emily Barger, a graphic design and magazine journalism double major from White Bear Lake, Minn., is designing the organization's annual wall calendar, Web site, ads, brochures and other publications. The full-color wall calendar is one of INHF's member benefits and a draw for new members.
First-year law student Amanda Atherton of Fenton, Mich., serves as the legal intern, researching agricultural and conservation policy. Legal research like Atherton's is vital to INHF's ability to find efficient, effective methods of protecting Iowa's natural landscape.
Senior Danny Akright, a news-internet journalism and American history double major, is working as a communications intern. He is a resident of Overland Park, Kan., and his duties include writing articles for INHF's quarterly magazine and for news releases, updating INHF's award-winning Web site and expanding INHF's social media outreach.
"I've learned a lot from our Drake interns, and I like to think they've learned a lot from us," said INHF Communications Director Cathy Engstrom. "We keep in touch with many past interns, and they tell us their time at INHF still influences their life and careers."
Two Drake alumni also work at INHF:

Trails Coordinator Andrea Chase, a 2004 Drake graduate
Land Projects Coordinator Heather Jobst, a 2001 Drake graduate
INHF is a nonprofit conservation group that works with private landowners and other partners to protect Iowa's land, water and wildlife. Since its founding in 1979, INHF has helped protect more than 100,000 acres of Iowa's wild places. INHF employs about a dozen interns each year, through these internships and a land stewardship program.
For more information, visit the INHF Web site or contact Cathy Engstrom at cengstrom@inhf.org or 515-288-1846.