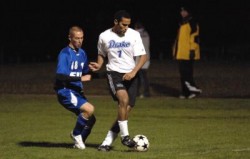 Drake's top-returning scorer Garrett Webb aims to help the Bulldogs build on the first preseason ranking in school history.
Coming off the most successful campaign in school history,
the Drake men's soccer team elevated its status as one of the nation's elite
squads as the Bulldogs were tabbed No. 21 in the College Soccer News Preseason
Top-30 Poll.
The ranking marks the first in a preseason national poll in
school history. Drake was tabbed in the national polls for 11 consecutive
weeks last season rising as high as No. 19 in the National Soccer Coaches
Association of America (NSCAA) and No. 22 in the College Soccer News polls,
respectively.
Joining the Bulldogs in the top-30 is Missouri Valley
Conference rival Creighton (No. 2).
"I'm excited by the ranking, but in the end it is a preseason
ranking and there is lots of soccer to be played," Drake head coach Sean Holmes
commented. "It is nice for our kids and I think it will help set the
tone in our preseason for what we're trying to achieve because we hope to go
further in the tournament this year and to try to win the Missouri Valley
Conference."
The Bulldogs return 10 starters and 16 letterwinners from a
unit that posted a school record 13-5-1 ledger in 2008 en route to the first NCAA
Tournament appearance in school history.
Drake opens its 2009 campaign on Aug. 27 against No. 7
Indiana at the College Soccer Festival in Fort Wayne, Ind.