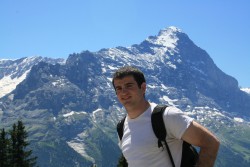 Mark Micheli poses for a photo last summer in Geneva, Switzerland.
Mark Micheli, a senior history and journalism major, will travel to Greece this summer as part of the 2009 Sigma Phi Epsilon Tragos Quest to Greece from June 18-28.
Micheli was selected as one of 18 participants for the program out of more than 14,000 Sigma Phi Epsilon undergraduates across the country. To be selected, applicants had to demonstrate campus and chapter involvement, scholarship and leadership.
The group will visit Olympia, the location of the first Olympic games in 776 B.C., and Thermopylae, where the Spartans defeated Persian armies as depicted in the recent movie "300."
"I'm excited to have the opportunity to learn about the places and people who have been so influential for thousands of years," Micheli said.
"Treading the same ground as Ancient Greek historians and philosophers — and getting to see the land and structures that inspired them — will be incredibly eye-opening and educational."
Micheli, of Glen Ellyn, Ill., was accepted for the all-expenses paid program in 2008, but turned it down because of another opportunity to work with the United Nations in Geneva, Switzerland, as a foreign correspondent for the Des Moines Register.
Micheli also served as Sigma Phi Epsilon President from 2008-2009 and is co-chair of the fraternity's "Queen of Hearts" philanthropy benefiting the Leukemia and Lymphoma Society.
The Sigma Phi Epsilon Tragos Quest to Greece was founded in 2001 by the Sigma Phi Epsilon Educational Foundation as an opportunity for collegiate brothers to learn about the roots of fraternalism in ancient Greece.
Learn more about the program online.