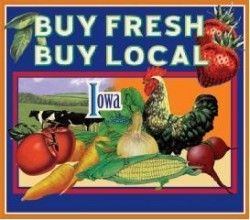 CONTACT: Matthew Russell, 515-271-4956, matthew.russell@drake.edu; Tory
Olson, 515-271-1834, tory.olson@drake.edu
On Thursday, June 25, Drake University will co-sponsor an evening showcasing
wines and foods from Iowa vintners and farms to support the Buy Fresh Buy Local
campaign and its network.
The event, "A June Wedding: Iowa Wines Marry Iowa Appetizers,"
will be held from 5:30 to 7:30 p.m. and hosted by Gateway Market at the Village
of Ponderosa, 520 Market St. in West Des Moines.
Chefs from Gateway Market will pair four Buy Fresh Buy Local wineries with
15 local farms to create tasty duos from a dozen wines and appetizers. The menu features a wide array of wines and appetizers, including Turtle Farm strawberries with Picket Fence Chantilly cream topped with Blue Gate Farm honey comb.
"We are excited about this event and the opportunity to encourage and
gain support for local wineries, farms and Buy Fresh Buy Local," said Matt
Russell, state food policy project coordinator and BFBL coordinator at the
Drake University Agricultural Law Center.
Tickets are $30 and proceeds will help support Greater Des Moines Buy Fresh
Buy Local.
Drake's Buy Fresh Buy Local also is partnering with several other
organizations to present a fundraiser for the Food Bank of Iowa. "Cooking
Out of the Box" is a celebration of Kitchen Collage's 10th anniversary.
Drake will join the Downtown Farmers' Market, Court Avenue Brew Pub and
Jethro's BBQ to support this fundraiser event at the Downtown Farmers' Market
on Saturday, July 11.
From 11 a.m. to 12:30 p.m., chefs will prepare lunch with Kitchen Collage's
latest kitchenware and fresh produce. Tickets are $25.
For more information or to purchase tickets for these events, including an
additional BFBL benefit dinner planned for September, visit buyfreshdrake.org.
Join the campaign
BFBL is committed to growing the local food movement. More than 1,500
consumers have taken the pledge to buy fresh, local food every week throughout
the growing season. Consumers can
take the pledge online today athttps://www.law.drake.edu/centers/agLaw/pledge.aspx.
"This is a great opportunity to stay connected, especially if you
support local foods," Russell said. "Taking the pledge is beneficial
for both the consumers and local farmers."