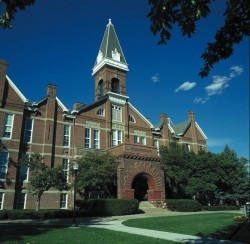 CONTACT: Tory Olson, 515-271-1834, tory.olson@drake.edu
Despite the recession and national decline in charitable giving last year, Drake University's Annual Fund raised more than $3 million for the second consecutive year.
The 2008-09 Annual Fund totaled $3,027,221 in the fiscal year ending May 31, down just 2.8 percent or $88,172 from last year's all-time high of $3,115,393.
This decline was significantly less than the 5.5 percent drop in donations to educational institutions in 2008 reported last week in the new edition of Giving USA released by the Giving USA Foundation.
"We are celebrating the phenomenal success of this year's Annual Fund, which supports the most pressing needs of the University," Drake President David Maxwell said.
"In these tough economic times," Maxwell added, "our alumni, faculty, staff, trustees, parents and friends have stepped forward with overwhelming support. We are very grateful for their confidence in and enthusiasm for Drake University."
Drake revamped its Annual Fund program in January because prospective donors were voicing concerns about the economy. Alumni and other friends received a letter from President Maxwell describing the impact of the economic downturn on the University.
"There was a strong positive response to President Maxwell's letter," said Pam Pepper, director of development operations and annual fund programs. "Throughout the spring, we emphasized to donors that 'You're facing tough times and so is Drake, but we can get through this together.'"
The success of the Annual Fund helped Drake end the 2008-09 fiscal year with a budget surplus for the fifth consecutive year. Since 2001, the University has invested $65 million in the renovation of classrooms, laboratories, residence halls and Drake Stadium.
The University strives to keep tuition as low as possible. Among 12 top Midwest master's institutions, Drake ranks at the top of the list for academic quality and 11th for cost.
University officials said Drake is on track to meet its target for enrollment of first-year and transfer students for the fall semester.