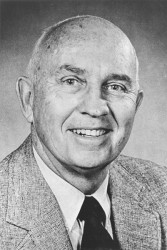 Bob Spiegel
On Sunday, June 21, Drake University will host a memorial service in honor of Drake Relays historian Bob Spiegel.
The service, which is open to the public, will begin at 2 p.m. in Drake's Cowles Library Reading Room, 28th Street and University Ave. A reception will follow.
The former newspaper editor-reporter died in his home in Fernandina Beach, Fla. on May 18. He was 87 years old.
Spiegel is survived by his three sons: Ronald Spiegel (Ruth), Lewisburg, Pa., Richard Spiegel (Ann), Yakima, Wash., and Craig Spiegel (Jane), Bellevue, Wash., and by five grandchildren: Fritz, Chris, Katie, Kevin and Grace.
The family has suggested that memorial contributions be made to the Drake University scholarship in memory of Bob Spiegel. Send to Drake University, Alumni & Development Office, 2507 University Ave., Des Moines, IA 50311.
Lifelong commitment to Drake
Spiegel, who graduated from Drake in 1943 with a bachelor's degree in political science, was a longtime historian of the Drake Relays. He attended 64 Drake Relays.
He wrote four books on the history of the Drake Relays: "The Drake Relays-50 Golden Years"; "Drake Relays/75 Years of Excellence"; "The Link/Drake Relays/Olympics"; and "The Drake Relays Centennial" published in April.
He also wrote a book on Drake's march to the 1968–69 NCAA Final Four Basketball Tournament titled, "Here We Go Bulldogs, Here We Go…"
Following military service in World War II, Spiegel was a reporter for the Des Moines Tribune for 19 years. He was editor of the Mason City (Iowa) Globe Gazette for 10 years and editor of the Wisconsin State Journal for 15 years.
"I think I speak for track and field enthusiasts around the country in wishing I had spent more time with Bob Spiegel," said Drake Relays director Brian Brown.
"Fortunately, Bob has given all of us much insight to his love affair with track and field through his books on the Drake Relays, which will be part of his legacy.
"His personality, integrity and his character will remain with us forever."