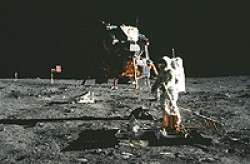 CONTACT: Tory Olson, 515-271-1834,
tory.olson@drake.edu
The summer lecture series at the Drake Municipal Observatory will focus on the moon — in celebration of the 40th anniversary of the first manned moon landing on July 20, 1969.
The series will begin on Friday, June 12, with a presentation titled "Beacon of the Night," which will examine the birth, physical makeup, gravitational pulls and motion of the moon.
The event will start at 9 p.m. in the observatory at 4898 Observatory Road in Waveland Park on the west side of Des Moines. Parking is available adjacent to the observatory.
The series, which is free and open to the public, will continue each Friday at 9 p.m. through July 17 with a non-technical, illustrated presentation by Charles Nelson or Herbert Schwartz of Drake University's Department of Physics and Astronomy.
Each presentation will be followed by the opportunity to view several stellar objects through the large refracting telescope and several smaller reflecting telescopes.
The programs are held regardless of the weather, although the selection for observation is subject to change due to sky conditions or other special circumstances.
Individuals, families and small groups are welcome to attend the presentations. A parent or responsible adult must accompany children.
The schedule for the remainder of the summer series is listed below:

June 19: "The Astronomical View"
June 26: "The Moon Affects Us"
July 3: "Why We Choose To Go To The Moon…"
July 10: "The Apollo Project"
July 17: "It Isn't Over Yet"
For more information, contact Drake's Department of Physics and Astronomy at 515-271-3141.