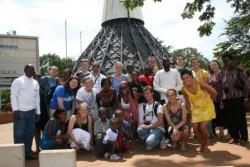 Students and faculty members from Drake and Makerere gather at a shrine of the Christian Martyrs during a stop on the trip.
A third group of students from Drake University departed for
Uganda in mid May to join students from Makerere University Business School in
a joint seminar on sustainable development.

The group is documenting the trip on a blog at www.mubs-drake-seminar.blogspot.com.
The 16 Drake students are collaborating with eight students from
Makerere. They are accompanied by Drake faculty members:
Debra Bishop, assistant professor of
management and international business
Jimmy Senteza, associate professor of
finance
Tom Root, associate professor of
finance
The group has visited the Queen Elizabeth National Park, the
Wildlife Education Center, several rural villages and a tourist attraction —
the Bunyonyi Resorts, among others.