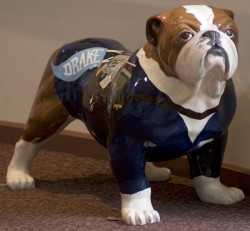 The RaySociety's bulldog will be on permanent display either outside the west entrance to Sheslow Auditorium or in the auditorium.
RAYSOCIETY JOINS THE BULLDOG PARADE
When Drake's Billie and Robert D. Ray Lifelong Learning Society decided to commission a bulldog for the Bulldog Parade, the group turned to Des Moines art teacher Sally McKenzie, FA'77, GR'84, and her son, T.J., AS'05.
The Bulldog Parade, which originated at the 2007 Drake Relays, has graced the campus with fiberglass bulldogs painted and decorated with various themes. Additional groups continue to join the parade by sponsoring and customizing bulldog figures.
McKenzie, who teaches art at Hanawalt Elementary and Cowles Montessori School in Des Moines, was a natural choice for creating a unique look for the RaySociety's bulldog. In addition to being a talented artist, she has myriad family ties to Drake.
Her late father, Frank DeFazio, JO'50, GR'78, GR'87, began lecturing in the School of Journalism and Mass Communication in 1983. He joined the Drake staff in 1968 as director of publications and later served in several other positions, including director of university relations and assistant to the president. He retired in 1992 and died in 2001.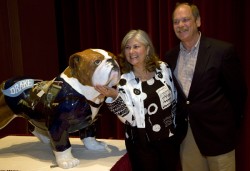 Sally and John McKenzie pose for photos with the bulldog.
McKenzie's husband and two sons also attended Drake. Her spouse, John,
AS'76, assisted with the heavy lifting involved in creating the bulldog
for the RaySociety.
Their son, T.J., who majored in sculpture, helped develop and
execute the design. Their other son, Brian, plans to complete his MPA
at Drake by the end of the summer session.
Sally and T.J. consulted with RaySociety leaders on the design for
the bulldog, deciding on a brown and white body adorned with a Drake
letter sweater, Drake pennant and book bag. Peeking out of the book bag
are numerous items ranging from tickets to the 100th Relays to an iPod,
all representing the RaySociety's philosophy of lifelong learning.
The RaySociety's bulldog was unveiled as the group's "newest
member" at the Year-End Celebration and Annual Meeting on May 27.
Members of the audience responded with oohs and ahhs and thunderous
applause.
"It has been my honor and privilege to create the RaySociety
bulldog because Drake University has meant so much to our family over
the years," Sally said.
"My son, T.J., and I worked together, and we want to thank everyone
who contributed ideas to the project. We tried to incorporate all of
the suggestions in some way, and added touches of our own. The process
was a family affair."
The RaySociety bulldog will have a permanent home outside the west
entrance to Sheslow Auditorium or inside the auditorium. Either
location will make the bulldog a highly visible symbol of senior
citizens extending their knowledge through the RaySociety's classes and
activities.


New classroom to be dedicated to RaySociety classes
Also at the annual meeting, Associate Provost Sue Wright announced
that by the start of fall classes, the RaySociety will have a dedicated
classroom in the Dial Center, 2407 Carpenter Ave.
Two rooms in the Dial Center are being remodeled and renovated into
a single classroom that will hold approximately 30 students. The
classroom will have new furnishings and the latest audiovisual
technology. Parking for RaySociety members will be available in the lot
just north of the Dial Center.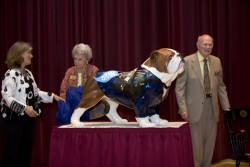 Sally McKenzie joins Dori and Don Byers in unveiling the new bulldog.
The new facility will be named the Don and Dori Byers RaySociety
Classroom in honor of the couple who spearheaded the founding of the
RaySociety more than six years ago. Don Byers, LW'51, serves as chair
of the RaySociety, which ended the 2008-09 academic year with more than
450 members.
The announcement of the naming of the classroom "came as a complete
surprise to us," Don said. "They did the work [on the classroom], but
we got the credit."
The annual meeting also included recognition of RaySociety
instructors and Drake staff members. In addition, new officers were
elected for 2009-10.
"It's been a great year for the RaySociety," Don concluded. "We're
looking forward to another great year in 2010 under the leadership of
Jim Wise and Pat Moran — both seasoned professionals."
The new officers and board members are:

President Jim Wise, ED'50, GR'51
Vice President Pat Moran, ED'67, GR'72, GR'92
Treasurer Ray Keables, BN'60
At-large Member Dale Berry, professor emeritus of economics
At-large Member Sue Cornick
At-large Member Lois Fingerman
At-large Member Louis Smith, BN'51, GR'53
At-large Member Jon Torgerson, professor emeritus of philosophy
In addition, Ed Peterson, GR'64, was appointed by the president to a two-year term as chair of the program committee.
For more information about the RaySociety, visit the Web site.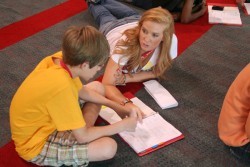 SUMMER ENRICHMENT PROGRAM TO TEACH 21ST CENTURY SKILLS TO KIDS, TEENS
For the second consecutive summer, SuperCamp's summer enrichment programs for kids and teens will be held at Drake University.

SuperCamp held its Midwest summer camps at Drake for the first time last year, and the response was so outstanding that the company has committed to a repeat performance in 2009.
Drake will host two SuperCamp programs, Junior Forum for students entering grades 6 through 8 in the fall, and Senior Forum for teens entering grades 9 through12. Both programs will run concurrently from July 12 21 so that parents may have the option of having multiple students attend SuperCamp at the same time.
During the Junior Forum program, students discover their individual learning styles and develop skills for dealing with a heavier academic and social schedule over the 10-day program.
They also learn how to participate in real-life activities that enable them to make responsible choices and win the support, understanding, and guidance of their teachers, parents and peers.
Senior Forum students learn to make the most of every moment, uncover their unique abilities, and develop greater confidence, while mastering strategies for academic and personal success.
The skills campers learn through the high school summer camp help to ease school stress, build study skills, improve grades, and increase test scores, including the ACT and SAT.
Students also learn life skills that encourage them to discover their strengths, pursue goals, make big decisions, solve problems and resolve conflicts.
Both 10-day programs encourage academic and personal success by teaching students 21st-century skills that they will retain for a lifetime.
Drake University is only one of seven SuperCamp sites across the country. Included among the seven are Stanford University, Cornell University and Wake Forest University.
Parents interested in learning more about the summer enrichment program, all seven summer camp locations, and enrollment, can call 1-800-285-3276 or visit
www.SuperCamp.com
to speak with a customer care representative.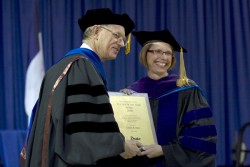 Provost Ron Troyer presents the award to Laurie Doré.
TWO PROFS HONORED WITH DRAKE'S HIGHEST AWARDS
Drake University faculty members Laurie Kratky Doré and Jennifer Harvey recently received Drake's highest honors — the annual Madelyn Levitt Awards at Drake's commencement ceremonies last weekend.
Drake Provost Ron Troyer presented Doré with the 2009 recipient of the Madelyn Levitt Teacher of the Year Award and Harvey with the 2009 Madelyn Levitt Mentor of the Year Award.
Doré: Teacher of the Year
Doré, the Ellis and Nelle Levitt distinguished professor of law, was recognized for her excellence in teaching, inspirational leadership and intellectual rigor.
Troyer said students appreciate Doré's "contagious enthusiasm" for her subject matter and her ability to explain difficult material in a way that is effective and accessible. He also noted that those who nominated her for the University's top teaching award describe her as personable, prepared and having a true passion for the law.
"I aim to create an effective teaching and learning environment by communicating enthusiasm, high expectations and respect for my students," Doré said. "A teacher must demonstrate passion and excitement for her subject, for if she appears bored or disinterested, her students will quickly follow suit."
Doré joined Drake in 1992 after practicing law for nearly eight years. She was admitted to the Iowa State Bar Association in 1996, and serves as faculty adviser for the nationally recognized Moot Court program at Drake Law School.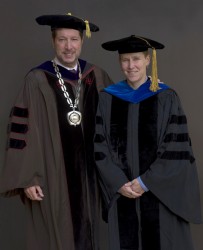 Drake President David Maxwell and Jennifer Harvey.
Harvey: Mentor of the Year
Harvey, assistant professor of religion and ethics, was honored for her outstanding commitment to student success in and out of the classroom, as well as integrity in personal relationships.
She was praised for her rapport with a variety of students, including advisees, religion majors and students majoring in law, politics and society. She has served these students as both a teacher and mentor since she joined the Drake faculty in 2004. Drake's Board of Trustees recently granted tenure to Harvey and approved her promotion to associate professor for the 2009-10 academic year.
"Contact with professors outside of the classroom is a critical part of students' education," Harvey said. "The opportunity to sit and talk with a faculty member who is invested in their success and well-being makes a world of difference in the quality of the experience students have in their college years."
Both in and out of the classroom, Harvey has been noted for her kindness and professionalism in working with students.
"Dr. Harvey is one of few people who never measured my capability of success based on my race, socioeconomic status or background," one student wrote in a letter of recommendation. "I have always felt comfortable talking about my past, present and future with her because she looks at me as a person, not as a circumstance or statistic."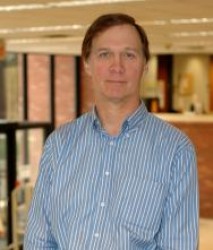 Karl R. Schaefer
PROFESSOR RECEIVES FULBRIGHT GRANT FOR RESEARCH IN EGYPT
Karl R. Schaefer, Drake professor of librarianship, has been granted a Fulbright Scholarship to conduct research on engaging readers and building collections at the
Bibliotheca Alexandrina
— the largest and most prestigious library in Egypt.
Recipients of Fulbright awards are selected on the basis of academic and professional achievement, as well as demonstrated leadership potential in their fields. The Council for International Exchange of Scholars administers the Fulbright Scholar Program. For more information, visit
http://exchanges.state.gov
.
Schaefer, who joined the Drake faculty in 1995, is coordinator of library instruction and an expert in teaching students how to effectively use research libraries. Since 2001, he has taught a two-credit information literacy course and been responsible for selecting materials for several interdisciplinary programs, such as Latin American Studies, African and African American Studies, Native American Studies and Women's Studies.
Schaefer plans to travel this fall to Alexandria, Egypt — home of the Bibliotheca Alexandrina. During his four-month grant program, Schaefer's primary goal will be to establish two workshop programs for librarians and other staff members at the Bibliotheca Alexandrina.
The first workshop will evaluate and recommend ways to improve Alexandrina's practices in library-user training with the goal of increasing information literacy and user access to electronic resources.
The second workshop will assist with developing collections in interdisciplinary fields of study in light of financial and logistical concerns, which include limited budget, increased demand and government-regulated access to printed materials in Egypt.
In addition to the workshops, Schaefer will facilitate individual seminars on specific topics. He will give lectures, assign readings and lead discussions about developing improvement strategies.
"My intent is not to be prescriptive," Schaefer said. "I expect to spend much of my time listening and learning from my Egyptian librarian colleagues who no doubt have already given much thought and energy to addressing these issues.
"My role in this position is that of a person who serves as a resource for technical assistance and who can offer a disinterested perspective on existing practice," he added.
Schaefer projects the strategies developed through the workshops and seminars eventually will be implemented in libraries across Egypt and the Middle East.
While in Egypt, Schaefer also will travel to Cairo and possibly other locations to further his research on the history of Arabic printing. His research focuses on medieval Arabic block printing and he is the author of "Enigmatic Charms: Medieval Arabic Block Printed Amulets in American and European Libraries and Museums." He plans to present an illustrated lecture on his updated findings after he returns from Egypt.
Schaefer has traveled and studied extensively in the Middle East, including Egypt, Syria, Jordan and Israel. He speaks and writes Arabic, German and Hebrew. Plus, he reads French and Persian (Farsi).
He holds a bachelor's degree in political science from Union College and an M.A. and Ph.D. in Near Eastern Languages and Literatures from New York University. He also received a Master of Library and Information Science degree from the University of Oklahoma.