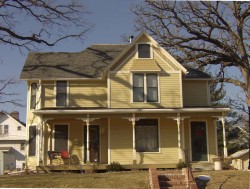 The Vaill-Kinney house will be featured on this year's tour.
On June 6 and 7, the
Drake Neighborhood will sponsor its 23rd annual Historic Home Tour featuring
homes at least 100 years old.

The tour will cover the
portion of the neighborhood that lies between 31st and 25th streets and south
of University Avenue.
On Saturday and Sunday,
the tour will run from 11 a.m. to 4 p.m., highlighting the heart of University
Place, the suburb platted and marketed by Drake University in the 1880s and
1890s.
During that time, the
University acted as real-estate developer to create an ideal neighborhood
surrounding the new school as a means of attracting students and faculty, as
well as fundraising for the new campus.
Many of the homes have
historic ties to Drake University and other Des Moines historical figures,
including Lampson P. Sherman, founder of Principal Financial.
The Vaill-Kinney house
at 1056 26th St. was built circa 1885, and served as a boarding house for Drake
students. Drake alumnus and chemistry professor Charles Kinney later purchased
the house in 1908.
Research into the rich
historic legacy of University Place continues, unearthing lost connections
between Drake University and the houses surrounding the campus.
Tickets will be
available during the tour days for $15 at Drake's Opperman Center, 2700
University Ave. Advance tickets can be purchased for $10 at the following
locations:
Drake Diner — 1111 25th St.

Dahl's Foods — 1819 Beaver Ave. and 3425
Ingersoll Ave.

Mars Café — 2318 University Ave.

Gateway Market — 2002 Woodland Ave.