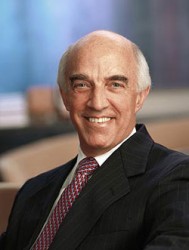 Donald H. Fletcher
CONTACT: Lisa Lacher, 515-271-3119, lisa.lacher@drake.edu
Drake University's Board of Trustees recently elected a new chair — Donald H. Fletcher — and two new members — Richard "Dick" Hartig and Kermit S. Sutton. All three are Drake alumni.
Fletcher, who began his three-year term as chair on April 24, retired in 2005 as president of the personal expression group at Hallmark Cards Inc. He chaired the company's business leadership council and oversaw all aspects of Hallmark's North American and international businesses. He also served on Hallmarks' corporate executive council.
He earned his bachelor's degree in general business from Drake in 1967 and joined Hallmark the same year. He held various product and marketing positions within the Hallmark and Ambassador brands, advancing to president of the personal expression group in 1997.
Fletcher has been a Drake trustee since 2004, the same year he received Drake's Alumni Achievement Award for his accomplishments in business and community service. He lives in Liberty, Mo., and is former president of the Liberty Lions Club and past president of the Liberty Hospital Foundation. He also serves on the Baker University President's Advisory Council and the Entrepreneurship Council at Washington University.
Fletcher succeeds Drake Board of Trustees Chair James W. Hubbell III, chairman of Hubbell Realty Co.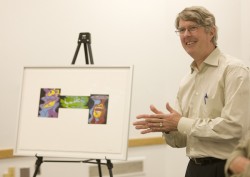 James W. Hubbell III with the print he received from board members.
Board members and Drake President David Maxwell recently honored
Hubbell for his distinguished service to the board.
They presented him
with a framed proclamation and a colorful print created by Weiwei
Zhang, a sophomore graphic design major from Chengdu, China.
The proclamation noted that Hubbell has given generously of his
time, energy and leadership skills since he joined the Board of
Trustees in 1984.
He also was recognized for strengthening Drake's
endowment, generating additional funds for student financial aid and
faculty and staff salaries.

Both Hartig and Sutton will serve three-year terms on the Board of
Trustees, which meets four times yearly and serves as the University's
policy-making and governing body.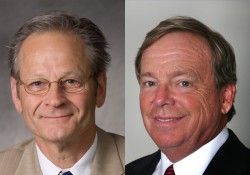 Richard "Dick" Hartig and Kermit Sutton
Hartig is CEO of Hartig Drug Co., which is based in Dubuque, Iowa,
and operates traditional drug stores and a long-term care pharmacy.
Hartig earned his bachelor's degree in pharmacy from Drake in 1973 and
his MBA from Drake in 1981. He has long been recognized as an
entrepreneurial leader in pharmaceutical care, emphasizing active
patient care by pharmacists.
He received the Lawrence C. and Delores M. Weaver Medal of Honor
from Drake's College of Pharmacy and Health Sciences in 2006. He also
will accept Drake's Distinguished Service Award — the highest honor
bestowed on Drake alumni — at the annual Alumni Awards Dinner on
Saturday, May 16.
Sutton, a 1974 graduate of Drake Law School who lives in Naples, Fla., has owned and operated the Sutton Co. since 1990.
He began his legal career in 1974 as an associate at the Whitfield
& Eddy PLC law firm in Des Moines. In 1978 he became a partner in
the firm, then served as of counsel from 1989 to 1991. He also was a
member of the Board of Directors of Palmer Communications Inc. from
1978 to 1994 and Palmer Wireless from 1994 to 1997.
In addition, Sutton has been active in Drake Law School, serving on
the Board of Counselors since 2006. He has also served his community as
a board member of the Naples Community Hospital and Community School of
Naples. He currently is a trustee of the Conservancy of Southwest
Florida and chairman of the Naples Committee for the Heritage
Foundation.