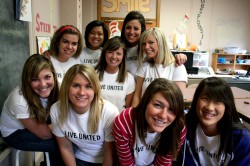 Members of Student United Way at Drake gather to plan the garage sale.
CONTACT: Karlyn Stachelski of Student United Way at Drake, karlyn.stachelski@drake.edu;

Lisa Lacher, 515-271-3119, lisa.lacher@drake.edu
Instead of discarding unwanted items as they prepare to move out of residence halls, Drake University students have the opportunity to donate the items to be sold at the first "Trash to Treasure" garage sale on the Drake campus.
The garage sale will take place from 2 to 6 p.m. Friday, May 15, in Helmick Commons just north of the Olmsted Center parking lot at 28th Street and University Avenue.
In the event of rain, the sale will be held on the Pomerantz Stage in Olmsted Center, 2875 University Ave. Drake students and members of the Des Moines community are welcome and encouraged to attend.
Items donated so far include futons and couches, lamps, shelving units and cabinets, mirrors, small refrigerators, microwaves and an entertainment center.
The project fits well into Drake's "Blue is Green"
environmental initiative by promoting recycling and reducing the amount of trash going into the
landfill.
The fundraiser is co-hosted by Drake's Residence Hall Association and Student United Way. Money made from the donations sold will go towards funding Student United Way and the group's future volunteer projects. Items not sold will be donated to the Salvation Army.
"This is a great way for our organization to advertise our cause," said Student United Way President Brian Lundeen. "United Way is passionate about service projects in the community, and having Trash to Treasure be our first big fundraiser will be a good opportunity for our organization to get our name out to the Drake campus and Des Moines area."
Beginning on Monday, May 11, students who attend Drake will be able to drop off donations, such as furniture and clothing, to designated areas in each residence hall.
Members of the Residence Hall Association and Student United Way will organize the donations and conduct the garage sale.
For more information, please contact Residence Hall Association President Rachel Kauffold at rachel.kauffold@drake.edu or Student United Way President Brian Lundeen at brian.lundeen@drake.edu.