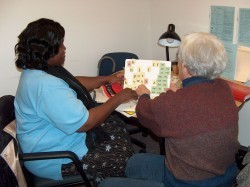 Madelyn Davis, left, works with her tutor, Joanne Brown, a retired Drake English professor.
MEDIA CONTACT: Anne Murr, 515-271-3982, anne.murr@drake.edu
Drake University's Adult Literacy Center is seeking volunteers to tutor adults learning to read.
"Tutoring an adult is a way to have a direct and positive impact in another person's life and, indirectly, in the lives of families," says Anne Murr, coordinator of the Drake Adult Literacy Center.
Training sessions for those interested in tutoring will be held from 5:15 to 8 p.m. in room 213 of Drake's School of Education, 3206 University Ave., on the following dates:

Monday, May 18
Wednesday, May 20
Friday, May 22
Tutors need to attend all three sessions to obtain adequate preparation for helping adults improve their literacy skills. Better reading skills often lead to enhanced self-esteem, improvements in daily living and interest in lifelong learning.
"Working at the Literacy Center is, hands down, the most gratifying volunteer work I've ever done, and I've done a lot!" says Joanne Brown, professor emerita of English at Drake.
All tutors are volunteers who meet individually with a student one or two hours a week. Tutors have flexible hours with day and evening options available.
For more information and a tutor application, visit the Adult Literacy Center's Web site or call Anne Murr at 515-271-3982.