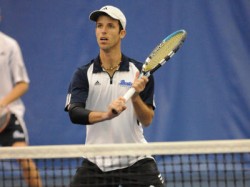 Maor Zirkin
Zirkin leads Drake in all-MVC men's tennis recognition
The Drake men's tennis team was well represented when the annual postseason awards were announced on Thursday, April 23.
The Bulldogs garnered Player of the Year and Coach of the Year accolades for a third consecutive campaign as senior Maor Zirkin (Kibutz Hazor, Israel) and head coach Chase Hodges were honored by their peers.
By virtue of his selection as a first team All-Missouri Valley Conference selection at the No. 1 singles, Zirkin was tabbed as the MVC Player of the Year. He becomes the first multiple-award winner in league history since the honor was officially recognized in 2007. A three-time league Player of the Week selection, Zirkin ran the table in conference action, posting a perfect 6-0 mark en route to a 19-3 ledger in the dual campaign. He finished his career having never lost a regular season singles match in league action.
"Maor will go down as one of the best players to play in the Missouri Valley Conference," Hodges commented. "He has had a legendary career and I feel very fortunate to have coached him the past four years."
Hodges, who joined Southern Illinois' Dann Nelson to receive Coach of the Year honors, enjoyed his third straight Coach of the Year award.
In his fourth year at Drake, he has led the Blue and White to three straight regular season MVC titles en route to State Farm MVC Championship crowns and NCAA Tournament berths in each of the last three years.
"It is an honor to be selected by my peers as the MVC Coach of the Year for a third consecutive year." Hodges explained. "I give all of the credit to my current student-athletes. They have made me look good."
Garnering first team recognition in singles was Zirkin, sophomore Mauricio Ballivian (Santa Cruz, Bolivia), junior Guilherme Marsiglia (Porto Alegre, Brazil) and senior Ricardo Lau (Tecugigalpa, Honduras) at the Nos. 1, 2, 5 and 6 singles slots, respectively. The quartet finished with a 21-1 combined mark.
Zirkin, the 2007 MVC Player of the Year, became a four-time All-MVC performer with his selection at No. 1 singles after claiming top honors at the Nos. 2, 1 and 2 slots, respectively during his first three seasons. He is Drake's all-time leader in victories having registered a 224-53 combined singles/doubles ledger during his career.
Repeating his 2008 first team honors at No. 2 singles was Ballivian, who is 14-8 in the dual campaign and went 6-0 in league competition.
Garnering All-MVC singles recognition for the initial time was Marsiglia and Lau at the Nos. 5 and 6 slots, respectively. Marsiglia has posted a 14-8 singles mark, including 5-1 in league competition, while Lau has been equally successful netting a 12-6 singles ledger and a 4-0 MVC mark.
In doubles, Drake collected first team accolades at the Nos. 1 and 2 positions. At the top position, the duo of Zirkin and freshman Cesar Bracho (Luque, Paraguay), were 4-1 in both league action and overall. Combining to register a 5-1 MVC record and 13-7 on the campaign was the Ballivian and senior Ivan Mendoza (Wellington, New Zealand).
"Our singles and doubles play has been outstanding in MVC play," Hodges said. "Mauricio (Ballivian) had a great season at No. 2 while Gui (Marsiglia) and Ricardo (Lau) did a tremendous job for us at No. 5 and No. 6. Our top two doubles teams are also very deserving as they played extremely well."