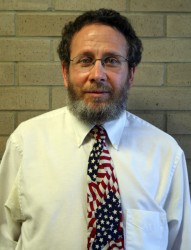 Arthur Sanders
CONTACT: Lisa Lacher, 515-217-3119, lisa.lacher@drake.edu
Arthur Sanders, professor of politics and chair of the Department of Politics and International Relations at Drake University, has been honored as a newly appointed Ellis and Nelle Levitt distinguished professor.
The professorship, recently approved by the Drake Board of Trustees, recognizes and rewards superior Drake faculty for effective teaching, scholarship, leadership, professional consultation and contributions to the mission of the department, college and university.
Sanders joins the ranks of 12 Levitt professors currently on the faculty. Names of current and emeriti Levitt professors are posted on the Drake Web site.
Sanders has taught at Drake since 1990 and received numerous honors in the College of Arts and Sciences, including Teacher of the Year in 1994 and Centennial Scholar in 2006. He is in his second term as president of the Drake Faculty Senate. He also serves as associate provost, focusing primarily on faculty development.
He has directed the University's Honors Program since 2000. Under his leadership, the program has grown steadily and the number of students graduating with University Honors has doubled.
Sanders, who holds a Ph.D. from Harvard, also is an active scholar and his research interests in American politics include mass political attitudes, public opinion and politics and media. He also studies the role of money, interest groups and political parties on health-care policy.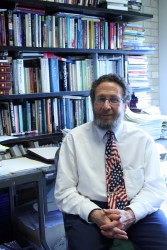 Arthur Sanders is surrounded by books in his office.
Since 2000, he has been active in a research group organized by the
Center for the Study of Elections and Democracy at Brigham Young
University. He has published four books, as well as numerous articles,
conference papers and book chapters. His latest book is titled "Losing
Control: Presidential Elections and the Decline of Democracy."
Sanders played a key role in developing the first learning
community at Drake, linking a specially designed section of the
introductory American Political System class to the first-year seminar
on Perspectives in American Character.
In fall of 2007, as part of the University's newly revised Engaged
Citizen program, he taught a new class that blended traditional studies
of the presidential nomination process with student internships related
to the Iowa caucuses.
"My teaching and research focus on responsible citizenship, both in
terms of connecting students to the broader polity and exploring ways
to make our political system more democratically accountable," Sanders
said.
Sanders shares his knowledge with journalists and the general
public by serving as a political consultant for various media outlets.
During the 2008 Iowa caucuses, he appeared on NBC, FOX, NPR, ABC, the
BBC, Bloomberg Television and Australian Television, in addition to
numerous local television and radio stations.