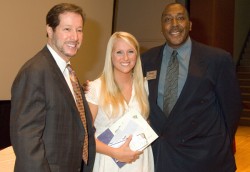 L to R: Drake President David Maxwell, Jill Swenson and Dean of Students Sentwali Bakari at last week's award ceremony.
CONTACT: Tory Olson, 515-271-1834, tory.olson@drake.edu
Jill Swenson of Eyota, Minn., recently received the Oreon E.
Scott Award at Drake University for displaying excellence in scholarship,
leadership, service and involvement. This prestigious award is presented
annually to the outstanding senior at Drake.
As the recipient of the Scott Award, Swenson will be one of
the featured speakers at the 128th Undergraduate Commencement Ceremony at 10
a.m. Saturday, May 16, at the Drake Knapp Center in Des Moines, Iowa. She is
the daughter of Robert and Peggy Swenson of Eyota.
In her nomination, Drake's Assistant Dean of Students Melissa
Sturm-Smith said:
"You will not see any presidential titles on Jill's
resume, but the lack of such a title should not be mistaken for lack of
leadership skill or ability. Jill demonstrates a maturity and sense of
character that is impressive and uncommon among her peer group. She quietly
leads by example, balancing her activities and academics in such a way that she
excels in all arenas."
Consistently attaining high marks in the classroom while
double majoring in neuroscience and biology, Swenson made the President's or
Dean's List during five of the semesters she attended Drake.
A graduate of Dover-Eyota High School, Swenson has been
active in campus activities, serving as a summer orientation leader, student
ambassador, Donald V. Adams Leadership Academy graduate, Emerging Leaders Model
mentor and Senior Reflections participant. In addition, she has been involved
with scientific research on campus since winter 2008.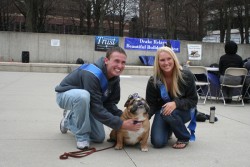 Jill Swenson (right) and Korey DeBerg (left) celebrate Porterhouse's win at the Beautiful Bulldog Contest.
She works as a recreation complex manager at Drake's Bell Center and also served as hostess for the 100th Drake Relays.
Swenson is committed to volunteer service. In 2008, she participated in an Alternative Spring Break trip to Mississippi to rebuild communities damaged by hurricanes Rita and Katrina.
Swenson is a member of Delta Gamma Sorority as well as Mortar Board, Omicron Delta Kappa and Order of Omega leadership and scholastic honorary societies. She previously won the Top Sophomore and Top Junior awards at Drake.
She plans to attend graduate school at the University of Minnesota to pursue a Doctor of Physical Therapy degree.
The Oreon E. Scott Award is named after a former Drake governing board member who turned his success as a St. Louis real estate businessman into a lifetime of philanthropy for the Disciples of Christ Church, which founded Drake in 1881. The award has been given annually at Drake since 1949.