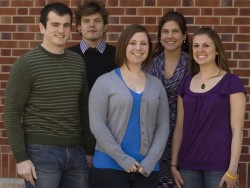 L to R: Mark Micheli, Jake Hukee, Becky Hansen, Kate Baier and Kristin Looney.
Members of Drake University's award-winning
student-produced magazine THiNK are covering the aftermath of the Iowa Supreme
Court's decision to overturn a ban on same-sex marriage in Iowa.Read more about the case online.
Students went out into the community yesterday (April 27)
to cover same-sex marriages and weddings — and witnessed hundreds of couples
waiting to get marriage licenses on the day the Supreme Court ruling took
effect.
"This is only part of our renewed effort to cover the
gay marriage movement in Iowa," said junior Mark Micheli, thinkdsm.com
site director. "This demonstrates that Drake students continue to be at
the center of national, even international, news."
Read the students' coverage and view photos from
yesterday's events on the magazine's Web site:
Students began covering the historic decision on April 2.
They posted stories, photos and commentary about the Court's decision, people's
reactions and a public rally held in downtown Des Moines on the magazine's Web
site at thinkdsm.com. Access their articles and blogs online.
"That was an historic day for Iowa and an incredible
experience for a group of Drake students who got to cover the Iowa Supreme
Court's unanimous decision to legalize same-sex
marriage throughout the state," said Micheli.
"Five of us were at the press conference where the
decision was announced to the couples involved and we attended the rally that
night."
Other students involved are seniors:
Justine Blanchard of Des Moines
Kate Baier of Cedar Rapids, Iowa
Jake Hukee of Des Moines
Becky Hansen of Rock Island, Ill.
Kristin Looney of Evergreen Park, Ill.
Junior Matthew Smith of Cavalier, N.D., also helped with the
coverage on April 27.
THiNK, a news magazine, is a joint senior capstone project
for magazine and news-Internet majors produced in the spring semester. The print version of THiNK will launch on Friday, May 1, and the students will host a launch party that day from 4-6 p.m. at Mars Cafe, 2318 University Ave.