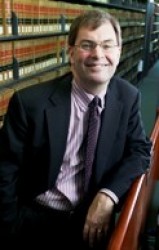 Mark Kende
Even before its March release, Mark Kende's new book comparing constitutional rights in South Africa and the United States received positive reviews on national blogs and garnered high marks from numerous scholars.
The book, "Constitutional Rights in Two Worlds: South Africa and the United States," (Cambridge University Press, 2009) recently was featured on the Constitutional Law Prof Blog and the Legal Theory blog.
"With such an agenda, this book should be a stellar contribution to comparative constitutionalism," according to the Constitutional Law Prof Blog.
Harvard Law School Professor Cass Sunstein described it as "A fascinating, original, and genuinely important book, illuminating not only the South African and American constitutions, but constitutional theory and practice in general, indispensable reading."
The book's introductory chapter on the Social Science Research Network, a scholarly website, was listed among the top 10 downloads in its field internationally during the last few months.
Kende, the James Madison chair in constitutional law and director of the Constitutional Law Center, recently was invited to South Africa to speak at a conference about the new book. There, scholars from Germany, Spain, South Africa and the United States commented on various chapters and ideas from the book.
"Mark Kende's book is an outstanding and refreshing contribution to the growing literature on comparative constitutionalism," said Rainer Nickel from the Institute for Public Law at University of Frankfurt, and the 2008 Schlesinger Scholar and visiting professor at Cornell Law School.
"Kende's approach to 'transformational constitutionalism with a pragmatic touch' will revive the rusty discourse on U.S. constitutionalism, and his conclusions form a sound basis for a comprehensive and progressive reform agenda," he added.
Kende said the conference was an exciting opportunity to learn the reactions to his work of academics from diverse national and inter-disciplinary backgrounds. He said the South African Constitution is arguably the most important new constitution of the last 25 years.
This book examines a crucial aspect of the South African transition: the Constitutional Court's role in social change. The Court has enforced socioeconomic rights, supported gay marriage and struck down the death penalty.
Kende addresses questions such as: How did the Court address these significant issues without much domestic human rights case law on which to draw?
The book is available from Cambridge University Press on several continents and is available online.