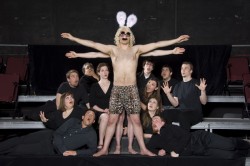 The Habeas Corpus cast reproduces a funny version of Leonardo da Vinci's "Vitruvian Man."
CONTACT: Tory Olson, 515-271-1834, tory.olson@drake.edu
Drake University Theatre's production of "Habeas
Corpus," written by Alan Bennett and directed by Daniel B. Goldberg Artist
in Residence Clive Elliott, opened Thursday, April 30, and continues through
Sunday, May 3.
"Habeas Corpus" (translated as "you have the
body") might at first glance seem to be a traditional, bawdy British
farce, containing all the key ingredients of a raucous comedy.
Set in sexually permissive 1960s England, the play follows
the exploits of the Wicksteed family as they chase after love, contemplate
adultery, lose their trousers and fantasize about how they might change their
lives.
However, Bennett goes deeper than pure silliness. The play
comments on love, lust, morality, mortality and what comes in between — that
something we call life.
"We are laughing more in rehearsal than in any other
play I've ever directed," Elliott said. "We hope the audience will
find it equally amusing."
Playwright Bennett began his career as an academic,
researching and teaching medieval history at Oxford before deciding that he was
not cut out for a cloistered life. In 1960, along with Dudley Moore, Jonathan
Miller and Peter Cook, he achieved instant fame in the phenomenally successful
satirical revue "Beyond the Fringe," which played in both London and
New York.
As a writer he has been equally successful on the stage, and
in films and television. "Habeas
Corpus" is a relatively early work, having premiered in London in 1973
with Alec Guinness as Arthur Wicksteed, and on Broadway two years later.
More recently, Bennett has enjoyed great success with his
play, "The History Boys," a comedy that won the 2005 Olivier Award
for Best New Play and the 2006 Tony Award for Best Play. He adapted the play
into a movie, which was released in October 2006.
Drake's final performance of "Habeas
Corpus" will start at 2 p.m. May 3 in Studio 55 of the Harmon Fine Arts Center, 25th Street and
Carpenter Avenue.

This play contains adult content not intended for children.
Admission is $5 for adults, $3 for students and senior
citizens, or $1 with a Drake ID. Tickets are available at the Drake Fine Arts
Center Box Office. Reservations may be made in person or by calling
515-271-3841.