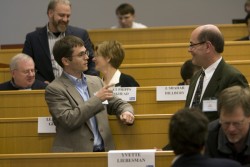 Scholars engage in conversation during the conference.
For scholars at this year's Intellectual Property Scholars Roundtable, the conference was the perfect way to "enlighten up" during the winter.
"Few things make Iowa appealing in February, but Peter Yu's Drake IP conference is one of them," said Michael J. Madison, professor of law and associate dean for research, University of Pittsburgh School of Law.
In its second year, the Drake Intellectual Property Law Center's roundtable drew more than 50 scholars from the United States, as well as Australia, Canada, China, Finland, Israel and the United Kingdom.
"Every year, Peter manages to assemble a broad and interesting group of IP scholars from around the globe," Madison said. "The two days of the conference are a ceaseless parade of new, thoughtful presentations and engaging, informal conversations."
Madison and other scholars presented their latest research in intellectual property law and provided commentary on their colleagues' works. The wide range of topics covered in the roundtable included fair use, free and open source software, trademark dilution, tax strategy patents, industrial biotechnology and competition law in China. The event also featured a specially-designed session on pedagogical issues in the area of intellectual property law.
"The annual IP roundtable is one important stop for refreshing scholarly exchanges and networking," said Chidi Oguamanam, professor of law at Dalhousie University Law School in Canada. "I have found it invaluable for remaining abreast with cutting-edge IP research and scholarship."
A number of professors, including Madison and Oguamanam, have attended the annual roundtable since its inception in 2008, following the launch of the Drake Intellectual Property Law Center. Directed by Professor Peter Yu, the Kern Family Chair in Intellectual Property Law at Drake University and a leading expert in international intellectual property and communications law, the Center serves as an international hub for research and education in the intellectual property area.
Another participant, Rebecca Tushnet, law professor at the Georgetown University Law Center, blogged about the conference and valuable experience.
The annual event aims to bring scholars together to share their latest research in the areas of copyright, cyberspace, patent, trademark and international intellectual property laws.