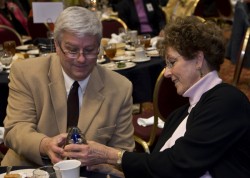 Jerry Foxhoven and Joan Middleton examine the Advocate Award.
The Joan and Lyle Middleton Center for Children's Rights at Drake Law School recently received the Advocate Award for organizations with fewer than 100 employees at the 2009 Live United Recognition Event.
Jerry Foxhoven, director of the Middleton Center and executive director of the Drake Legal Clinic, accepted the award from United Way of Central Iowa at the Live United luncheon at the Downtown Marriott.
"We are especially honored to receive this award for advocacy because it is recognition that the Middleton Center has been successful in fulfilling two major goals," Foxhoven said.
"First, the dream of Joan and Lyle Middleton that the Middleton Center be seen as a strong advocate for our most vulnerable children is being realized every day.
"Second, we have been able to contribute to Drake's mission by advocating for children in an exceptional learning environment that prepares our students for meaningful personal lives, professional accomplishments and responsible global citizenship."
In presenting the award on behalf of United Way, Rose Mitchell of Hy-Vee Inc., said, "Imagine being in the foster care system as a young person, but being left out of court hearings involving your own future. Imagine turning 18 years old and 'aging out' of the foster care system, but having no Social Security card or even a copy of your birth certificate.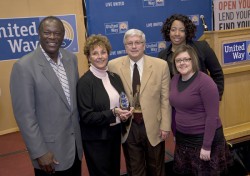 Dolph Pullium, Joan Middleton, Jerry Foxhoven, Lauren Yates and Annie vonGillern at the awards ceremony.
"To stand up to the rights for these youth, the Joan and Lyle Middleton Center for Children's Rights at Drake University Law School has advocates for foster children who are determined to protect them and improve their lives.
"Students and faculty members directly represented over 125 youth in juvenile court proceedings in 2008," she added. "They spoke at over 20 conferences on child welfare issues. They were the primary organization involved with Adoption Saturday, Family Reunification Day and Polk County Model Court."
Mitchell also noted that Middleton Center employees and Drake law students successfully advocated for legislation signed into law by Iowa Gov. Chet Culver.
The first measure allows any youth involved in the child welfare system to attend his or her own court hearings. As a result, these young people are empowered to advocate for themselves in areas such as education and health-care needs.
The second law requires the Iowa Department of Human Services to provide stronger protection for youth who are 'aging out' of the foster care system.