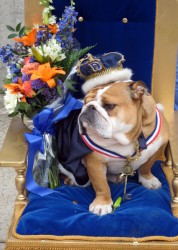 Porterhouse looks at home on his throne.
CONTACT: Tory Olson, 515-271-1834; tory.olson@drake.edu
Porterhouse, a four-time Beautiful Bulldog Contest
participant, won today's competition and was crowned the official mascot of the
100th running for the Drake Relays this week. View a video of Porterhouse and his crowning moment online.
Owned by Erin and Kevin Bell of Des Moines, 4-year-old
Porterhouse competed in the 2006, 2007, 2008 and 2009 contests. Today, he was
among 49 other wrinkly beauties in the 30th annual contest at Nollen Plaza in
downtown Des Moines. See the contest finalists in an online video and view footage of the contestants online. A photo gallery also is available on the Drake Web site.
His Army-inspired costume was paired with a reading of the
poem as he marched down the runway during the pageant:
"My name is Porterhouse like a piece of steak. I'm the ultimate fan of this great school called Drake. To be in 'Spike's Army' I'm incredibly proud. I hope my unrefined beauty impresses the crowd. Dressed in 'camo' I'm strutting my stuff, hoping that this year I'm beautiful enough."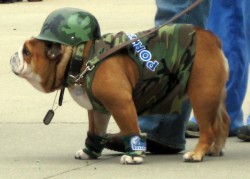 Porterhouse struts his stuff for the judges as a member of Spike's Army.
When asked what he thought when his beauty won the contest, first-year Drake law student Bell said all he could think was, "Please behave. Please behave. Please behave."
Porterhouse was well-behaved as he lapped up all the attention on his throne and sat calmly as Des Moines Mayor Frank Cownie draped a ribbon with the key to the city around his neck.
"This was his fourth year [competing in the Beautiful Bulldog Contest]," Bell said. "He finished second, second and third. He finally broke through on the 100th running of the Relays."
Porterhouse will preside over the 100th running of the Drake Relays from April 23-26.
Bell said he is sure that Porterhouse will enjoy his new role. "He loves to be out in the crowd — hamming it up. He loves to be the king."
The increasingly popular competition included 50 canine contestants from across Iowa as well as Nebraska, Wisconsin, Missouri, Kansas, Indiana, Illinois, South Dakota and South Carolina.
"The competition has never filled up so quickly," said Dolph Pulliam, Drake's director of community outreach and development. "We reached the maximum of 50 bulldogs only seven days after opening the entry process. We had more than 50 contestants who asked to be on our stand-by list in case someone drops out."