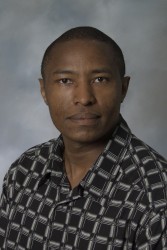 John Gitua
MEDIA
CONTACT: Tory Olson, 515-271-1834, tory.olson@drake.edu


John Gitua, assistant professor of chemistry at Drake
University, will present a lecture on the scientific perspective on the fight
against malaria on Tuesday, April 21.
The presentation, titled "The Fight Against Malaria in
Endemic Countries: Challenges and Opportunities," is free and open to the
public and will start at noon in Bulldog Theater in Olmsted Center, 2875 University Ave.
In his talk, Gitua will explore some of the challenges that
have impeded the eradication of malaria and its impact on societal development.
He will also discuss the scientific approach towards its treatment and
prevention as well as the various strategies being put in place to combat the
disease.
The lecture is part of the Drake University Science
Colloquium Series and sponsored by the Drake Undergraduate Science
Collaborative Institute.
For more information on the lecture or the series, contact
Maria Bohorquez at 515-271-2595 or maria.bohorquez@drake.edu.