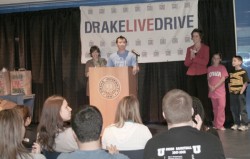 Drake Live Drive President Lanon Baccam announces the success of the food and clothing drive.
Drake University students gathered in Olmsted Center on Wednesday to celebrate
Drake Live Drive's food and clothing drive designed to raise awareness about homeless youth, domestic violence and need for shelter services.
The drive also was a competition, and several student
organizations were recognized in various categories for earning the
highest points per capita for their donations.
The winners in the various categories were:
Sorority: Alpha
Delta Pi
Fraternity: Tau
Kappa Epsilon
Individual: Molly
Sherrman of Link Strategies
Residence Hall: Carpenter
Hall
Student Organization: Student
Athlete Advisory Committee
The ceremony also featured Drake First Lady Maddy
Maxwell and Iowa First Lady Mari Culver, who spoke to Drake students and
congratulated them for their service to the community.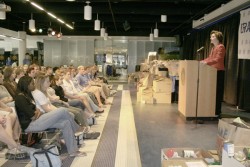 Surrounded by items collected for various shelters, Mari Culver addresses students at the awards ceremony.
"It is nice to be here with such an enthusiastic group
from Drake University," said Culver, who brought her children, John, 6, and
Clare, 8, to the celebration. "I commend your job as a new student
organization…It is exciting to see your involvement and sense of public service
and community."
The new student organization has collected more than 4,000
non-perishable items from clothes and food to household/daily use products.
Through collaboration with First Lady Mari Culver's Shelter
Awareness Project, the donated items will benefit Children & Families of
Iowa, Iowa Homeless Youth Centers and Youth Emergency Services & Shelter.
Drake Live Drive is a new student service organization founded by Drake students who came together to direct
meaningful change in the lives of the less fortunate in Des Moines and central
Iowa.
View more photos from the awards ceremony in the online photo gallery.