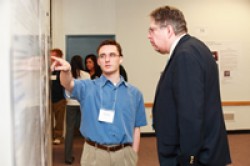 Nearly 100 Drake students and professors presented their research at last year's conference.
MEDIA CONTACT: Tory Olson, 515-271-1834, tory.olson@drake.edu
Several local students are among nearly 100 Drake
University faculty members and students who will celebrate their research on
Thursday, April 16.
The participants will present their work as part of
the sixth annual Drake University Conference on Undergraduate Research in the
Sciences (DUCURS).
Research posters will be on display from 9 a.m. to 5 p.m. in
Parents Hall in Olmsted Center, 2875 University Ave. The conference display
posters and oral presentations are free and open to the public.
The conference honors research in areas including astronomy;
biology; chemistry; physics; environmental science and policy; neuroscience;
mathematics and computer science; biochemistry, cell and molecular biology;
psychology and pharmaceutical science.
"Undergraduate students engaged in research will be
better prepared for graduate school or other professional activities,
particularly by focusing on their communication and critical thinking skills
and by helping them to become conscientious citizens," said Maria
Bohorquez, director of the Drake University Science Collaborative Institute.
Local students focus research on cancer
Local students, including juniors Kendra Swehla of Des
Moines, Chelsea Carter of Sioux City and senior Jordan Meggison of Grimes,
will have their work featured at the conference.
Swehla
and Carter were two of 15 students to work with Associate Professor of
Biology Heidi Sleister on a biology project identifying proteins associated
with cancer.
Their project involved using genetics to identify proteins
needed for chromosome segregation, which, when faulty in humans, may result in
disorders such as cancer and Downs Syndrome.
Meggison's research with Assistant Professor of Psychology
Nicole Taylor investigates the psychological reactions of daughters of women
with breast cancer.
The
project, which also was recently presented at the American Psychosocial
Oncology Society convention in Charlotte, N.C. explores the ways in which women
cope with the threat of breast cancer, how families are impacted by the
disease, and post-traumatic growth among daughters.
For
more information about the conference, contact Maria Bohorquez at 515-271-2595
or maria.bohorquez@drake.edu.