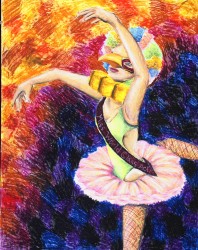 "Art is Spectacle" by Mistique Hecksel-Read
MEDIA CONTACT: Lisa Lacher, 515-271-3119, lisa.lacher@drake.edu
Six Drake seniors will display their art in
"Art(official)" in the Anderson Gallery in the Harmon Fine Arts
Center, 2505 Carpenter Avenue.
The opening reception will be from 5 to 7 p.m. on Friday,
April 3, and the exhibition will continue through Friday, April 17. The gallery
is open from noon to 4 p.m. Tuesday through Sunday.
The featured students are:
Hannah
Gebhart of Salina, Kan.; graphic
design major
"My work tends to incorporate architecture, more specifically playing with
the intricate relationship between suburban living and city life. I naturally
find myself looking at non-traditional ways to illustrate ordinary
settings."
Monica
Brandli of Prairie Village, Kan.;
graphic design major
"My studio pieces center around the ephemeral nature of time and its
relationship to memory, especially with respect to family. I also often
confront the association between graphic arts and mass production by providing
visuals with a hand-made quality."
Veronika
Leszayova of Slovakia.;
graphic design and drawing major
"I enjoy using satire and humor in my art; I design for the people but
also for myself. Also, as a student from the Slovak Republic, my views are
different from most people who only live in one country, and this is reflected
in my work."
Mackenzie
Skul of Duncan, S.C.; graphic design
major
"I often incorporate organic shapes into my design work. I like to keep my
pieces simple in order to get the important information across quickly. Too
much clutter can be distracting and pull the viewer away from the intended
purpose of the design."
Lauren
Schnepf of Colorado Springs, Colo.;
studio arts major (painting, printmaking)
"My work addresses artificiality in popular culture and reflects this in
the form of highly idealized silhouettes in unusual environments. I believe
there is something whimsical in the misuse of color. Using unexpected color
adds to the idea of artificiality in our culture."
Mistique
Hecksel-Read of Wacovia, Minn.;
studio arts major (painting, drawing)
"I like to create interactive and humorous work that's a little dark, but
doesn't take itself too seriously. I'm a firm believer that art should ask the
questions, not supply the answers."
For more information about the exhibit, contact Heather
Skeens, director of the Anderson Gallery, at 515-271-1994 or heather.skeens@drake.edu