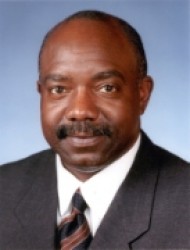 James H. Colon
MEDIA CONTACT:
Tory Olson, 515-271-1834, tory.olson@drake.edu
With its
roots in a state that played a key role in the civil rights movement, Drake
University will host the inaugural Dr. Martin Luther King Commemorative
Celebration on Wednesday, April 8. The celebration is free and open to the
public.
The event
will feature a keynote address by James H. Colon, Vice President of Sales at
Toyota Motor Sales, at 1 p.m. in Sheslow Auditorium in Old Main, 2507
University Ave. Colon's lecture is titled, "Inspired by the Legacy,
Committed to the Dream."
As part of
the celebration, Drake will receive a special plaque for hosting King during
his Iowa visit in 1959 when King was given a tour of Drake's campus by alumnus
Judge Luther T. Glanton. The plaque reports of the visit, indicating that King
was impressed by the campus and the warm reception from the students and staff
he met with.
Colon:
dedicated to making King's legacy live on
Colon, who
was invited to speak because he exemplifies King's dream, will receive the
Legacy Award.
In his
lecture, Colon will discuss his journey, diversity, leadership and how Toyota
has been inspired and continues to stay committed to the King legacy.
He
previously served as vice president of sales and dealer development for Lexus,
the luxury car division of Toyota Motor Sales and vice president and general
manager of the Chicago Region of Toyota Motor Sales.
Colon
received a bachelor's degree in economics and business from Manchester College
in North Manchester, Ind. He is also on the Board of Directors for the Black
Star Project.
King
connections bring celebration to Iowa
Longtime
Iowa resident and civil rights activist Anna M. Weems, who served with King on
a presidential committee under then-President Dwight D. Eisenhower, spearheaded
the initiative. It is a joint venture among Drake and the Cedar Valley MLK
Memorial Committee of Waterloo, Iowa.
"For
the first time in Iowa's history, the celebration will commemorate and honor
King's legacy and his historic visit to Iowa and Drake's campus in November
1959," Weems said.
Weems
invited King to Iowa when the two were at a committee meeting at the White
House and had a conversation about Iowa's racial and civil rights climate.
The
discussion spurred King's visit to Iowa, where he and his late wife, Coretta
Scott King, toured, and King spoke at various venues throughout the state. In
his talks, King inspired and challenged Iowans to embrace his message of peace
and non-violent resistance and racial harmony.
In addition,
as part of the 40th anniversary of King's assassination, Weems
organized a committee to build a memorial honoring King's legacy in Waterloo,
Iowa, the most diverse city in the state. This marks the first memorial in Iowa
to ever honor King and is the only architectural memorial of its kind in the
world.
For more
information about the Drake lecture, contact Tory Olson at 515-271-1834 or tory.olson@drake.edu or Lisa Lacher at
515-271-3119 or lisa.lacher@drake.edu.