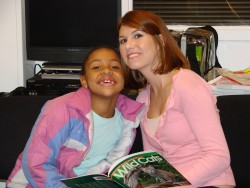 Saturday, April 18, 9:00-10:00 am
SOE Curriculum Library
Once each month, Drake University students gather on a Saturday morning
in the School of Education's Curriculum Library to read with children
from the I Have A Dream Foundation. The event, known as Books and
Bagels, is a volunteer opportunity for the students to work with area
school children.
For information about volunteering for the next Books and Bagels event, contact Professor DeDe Small at 271-3059.