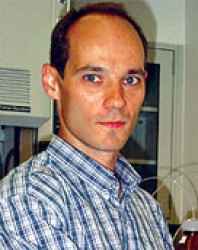 Victor Ryzhov
MEDIA CONTACT: Tory Olson, 515-271-1834, tory.olson@drake.edu
Victor Ryzhov, associate professor
of chemistry and biochemistry at Northern Illinois University, will present a
talk at Drake University about chemistry techniques on Friday, March 27. The lecture is part of the
Drake University Science Colloquium Series.
The presentation, titled
"Mass Spectrometry: From Fundamental Studies to Biological
Applications," is free and open to the public, and will start at noon in
room 206 of Olin Hall, 1344 27th St.
Ryzhov will discuss mass
spectrometry, which has become the premier tool used for solving a wide variety
of problems in different areas of chemistry. Modern techniques allow
researchers to analyze complex and fragile biomolecules in the gas phase by
converting them into ions, which can then be studied and manipulated.
"The most exciting application of this technique is the
screening of potential drug agents, where one of a drug's properties will be
assessed through the stability of a drug-substrate complex," Ryzhov said.
While most
bioanalytical applications use mass spectrometry just to detect mass, there is
a growing interest in obtaining more detailed information from mass spectra.
The series will conclude on May 1
with "Biologically Inspired Nanotechnology," presented by Eric
Henderson, professor of genetics, development and cell biology at Iowa State
University. This talk will also be held at noon in room 206 of Olin Hall.
The series is sponsored by the
Drake Undergraduate Science Collaborative Institute. For more information,
visit https://wwww.drake.edu/dusci.