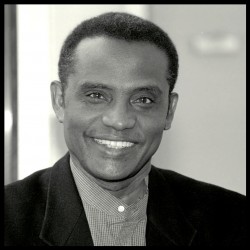 Abdullah Ahmed An-Na'im of Emory University will discuss "Religion, the State and Constitutionalism in Islamic and Comparative Perspectives."
CONTACT: Lisa Lacher, 515-271-3119, lisa.lacher@drake.edu
Scholars will share their global expertise on the constitutional relationships between various religions and governments during the annual Constitutional Law Symposium on Saturday, April 4, at Drake University Law School.
This year's symposium, titled "Global Perspectives on Religion, The State and Constitutionalism," will begin at 8 a.m. in room 213 of Cartwright Hall, 25th Street and Carpenter Avenue. Mark Kende, the James Madison chair of constitutional law and director of Drake's Constitutional Law Center, will moderate the conference.
The scholars will discuss major political and social controversies related to religion, significant constitutional and statutory provisions, and important court cases among other topics. They also will examine whether various governments, their legal systems and their courts adequately respect freedom of religion and religious pluralism.
In addition, the scholars will explore questions regarding the dignity of persons, what role governments should play in promoting more virtuous societies, how religious traditions influence constitutions and legal systems and what limits should exist on state involvement with religion.
The conference will feature the following speakers:
• Abdullah Ahmed An-Na'im, the Charles Howard Candler professor of law, Emory University School of Law

• Richard W. Garnett, professor of Law, Notre Dame Law School

• Laura Jenkins, associate professor of political science, University of Cincinnati

• T. Jeremy Gunn , director of the ACLU National Program on Freedom of Religion and Belief

• Frank Ravitch , professor of law, Michigan State University School of Law

• Thomas F. Farr, visiting associate professor of religion and international affairs, Edmund A. Walsh School of Foreign Service, Georgetown University
Read more about the presenters online.
Register for the symposium



Registration, which must be received by Monday, March 30, is limited and costs $10 per person. The symposium is free for individuals affiliated with Drake and with Belin, Lamson, McCormick, Zumbach, Flynn PC.
The registration covers the symposium and a continental breakfast.
For an additional $10, attendees can receive a copy of the Drake Law Review that includes the symposium proceedings.
The symposium, which was made possible by funding from the law firm of Belin, Lamson, McCormick, Zumbach, Flynn PC, has been approved for three hours of Iowa and four hours of federal CLE credit.
Free parking will be available in Lot 1 at 25th Street and Carpenter Avenue.
For more information about the symposium, contact Lauren Bartusek at 515-271-2988 or lauren.bartusek@drake.edu.
Congress created the Constitutional Law Center at Drake to commemorate the bicentennial of the Constitution in 1987.
For more information on the center, visit the Web site.
Symposium schedule



A detailed schedule of the day's events is listed below:

8 – 8:30 a.m. — Registration and Continental Breakfast
8:30 – 8:45 a.m. — Welcome by Drake President David Maxwell; Drake Law School Dean Ben Ullem; Mark Weinhardt, Esq., shareholder and president at Belin, Lamson, McCormick, Zumbach, Flynn PC
8:45 – 9 a.m. — Introduction by moderator Mark Kende, the James Madison chair professor in constitutional law and director of the Drake's Constitutional Law Center
9 – 9:30 a.m. — "Religion, the State, and Constitutionalism in Islamic and Comparative Perspectives" by Abdullah Ahmed An-Na'im
9:30 – 10:00 a.m. — "Church Autonomy, the First Amendment, and Constitutionalism" by Richard W. Garnett
10 – 10:30 a.m. — "Diversity and the Constitution in India: What is Religious Freedom" by Laura Jenkins
10:30 – 10:45 a.m. — Break for Beverages and Snacks
10:45 – 11:15 a.m. — "Secularism and Religious Freedom in France" by T. Jeremy Gunn
11:15 – 11:45 a.m. — "Religious Freedom Under Israeli Law" by Frank Ravitch
11:45 a.m. – 12:15 p.m. — "International Religious Freedom and American National Security in the 21st Century" by Thomas F. Farr