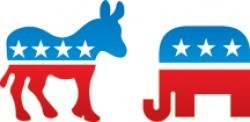 Iowa experts will discuss labor issues and the four labor bills under consideration this legislative session — choice of doctor, prevailing wage, fair share and collective bargaining — at the next IowaPolitics.com forum at Drake University.
The event, which is free and open to the public, will start at 3:45 p.m. Thursday, March 26, in Levitt Hall in Old Main, 2507 University Ave.
Confirmed panelists include:

Nathaniel R. Boulton

, attorney at Hedberg Law Firm P.C., which represents the American Federation of State, County and Municipal Employees

John Gilliland

, senior vice president of the Iowa Association of Business and Industry

Russ Samson

, law partner at Dickinson, Mackaman, Tyler & Hagen P.C. who has been listed in the 2009 edition of The Best Lawyers in America in the area of labor and employment law for the fourth consecutive year


Ken Sagar

, president of the Iowa Federation of Labor AFL-CIO

Additional panelists may be added in the coming days.
IowaPolitics.com Des Moines Bureau Chief Lynn Campbell will moderate the program, and questions will be accepted from audience members. The event will be broadcast statewide llater on the Mediacom Connections Channel and will be available for On Demand viewing on Mediacom Channel 1.
The forum is part of the "Cookies and Conversation" series presented by Drake University, IowaPolitics.com and Mediacom. Wal-Mart and Mediacom are sponsors of this event.
Doors will open at 3:30 p.m. and taping of the show will be from 4 to 5 p.m. Free parking will be available in Drake lots at 26th Street and University Avenue and 25th Street and Carpenter Avenue.
The event is free and open to the public, but registration is required. To register, visit the Web site, send an e-mail to info@Iowapolitics.com or call 515-309-2941.
IowaPolitics.com is an independent, nonpartisan news operation offering a free Web site at www.IowaPolitics.com and paid subscriber products. For more information, contact Jim Greer at greer@iowapolitics.com or 515-309-2941.