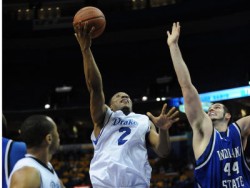 Drake senior Alex White
The Drake men's basketball team will play at the
University of Idaho at 9 p.m. Central time this Wednesday, March 18, in the
opening round of the inaugural CollegeInsider.com Postseason Tournament.
This will mark the first time Drake has played in
back-to-back post-season basketball tournaments since making the NCAA
Tournament from 1969-71. The Bulldogs also played in the 2008 NCAA Tournament.
The CollegeInsider.com Postseason Tournament features 16
teams including Missouri Valley Conference opponents Bradley and Evansville.
The first three rounds will be played at on-campus sites, which are determined
by seeding. The championship game also will be played at an on-campus site to
be determined by seed.
"We're very excited and honored to play in this
post-season tournament," said Drake coach Mark Phelps, whose team owns a
17-15 record. "The CollegeInsider.com Postseason Tournament provides 16
worthy teams an opportunity to continue their season in a highly competitive
event.
"Our team has been practicing this past week in hopes
of continuing our season. Idaho is a well-coached team which owns wins
against two teams in North Dakota State and Cal State Northridge which will be
playing in the NCAA Tournament."
Drake earned a 58-53 home victory against Idaho Dec. 21,
1949, in the lone previous meeting between the schools.
Idaho posted a 16-15 record this season, finishing third
in the Western Athletic Conference with a 9-7 mark. The Vandals beat North
Dakota State, 78-69, at home on Nov 22 and then clipped Cal State-Northridge at
home, 78-75, in the ESPNU BracketBusters series Feb. 21.
The quarterfinal round games of the CollegeInsider.com
Postseason Tournament will be played on March 23 with the semifinal round on
March 25 and the championship on March 31.
This marks the fourth different post-season tournament the
Drake basketball team has participated in. The Bulldogs played in the 1969,
1970, 1971 and 2008 NCAA Tournaments as well as the NIT in 1964, 1981 and 1986.
Drake also won the inaugural National Commissioners Invitational in Louisville,
Ky., in 1975.
Drake has been idle for nearly two weeks since falling to
Indiana State, 62-55, in the opening round of the State Farm Missouri Valley
Conference Tournament in St. Louis on March 5.
CollegeInsider.com Postseason Tournament Schedule
Tuesday, March 17
Rider (19-12) @ Liberty (22-11)
Kent State (19-14) @ Oakland (22-12)
Wednesday, March 18
The Citadel (20-12) @ Old Dominion (21-10)
Mount St. Mary's (19-13) @ James Madison (19-14)
Austin Peay (19-13) @ Bradley (18-14)
Belmont (19-12) @ Evansville (17-13)
Portland (19-12) @ Pacific (19-11)
Drake (17-15) @ Idaho (16-15)