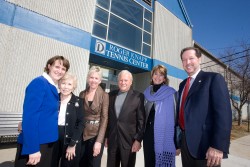 L to R: Sandy Hatfield Clubb, Irene Knapp (Roger's mother), Ginny Knapp Haviland (Roger's sister), Bill Knapp (Roger's father), Susan Knapp (Bill's wife) and Drake President David Maxwell.
The Drake Tennis Center recently was renamed the Roger Knapp Center to honor the memory of former Des Moines native Roger Knapp, who served as the Bulldogs' men's tennis coach from 1989 to 1994.
Drake held a ceremony prior to the start of the Drake-DePaul men's tennis match on Sunday.
Coach Knapp's determination, enthusiasm and commitment to excellence positioned the Drake men's tennis program for success and national prominence with the Bulldogs making their first appearance in the NCAA team championships in 1992.
The foundation he helped build lives on today as the Drake men's tennis program has won three consecutive MVC titles and has advanced to the NCAA Championship three straight years.
"Naming the Tennis Center after Roger Knapp allows this extraordinary person to serve forever as a role model for Drake student-athletes," said Drake athletics director Sandy Hatfield Clubb. "He was recognized as a scholar, a sportsman, and an elite athlete. Indeed he exemplifies the "Drake Way."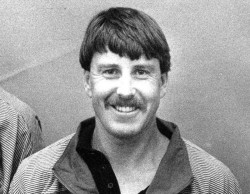 Roger Knapp
He transformed a program that owned a 3-20 record when he joined Drake in 1989, into a perennial power in the Missouri Valley Conference with nationally ranked players.
Knapp posted a 72-46 coaching record at Drake with the 1992-93 Bulldog team enjoying a 23-7 dual record. That record, at its time, was the most successful season in the history of the program.
He led Drake to two MVCchampionships in 1992 and 1993. He was named the 1992 Missouri Valley Conference and Region V Coach of the Year.
Knapp provided the vision and secured the resources to create Drake's indoor and outdoor tennis facilities, which opened in 1992.
He played professional tennis following his graduation in 1982 from the University of Southern California. During his tennis career he was ranked as one of the top 100 players in the world.
Knapp died in March of 2008 in Sarasota, Fla., as a result of complications from an aortic aneurysm. He was 48 years old.
He was the son of Drake University Trustee Emeritus William C. Knapp and Irene Knapp.