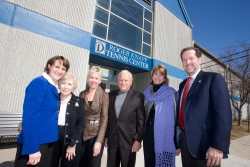 L to R: Sandy Hatfield Clubb, Irene Knapp (Roger's mother), Ginny Knapp Haviland (Roger's sister), Bill Knapp (Roger's father), Susan Knapp (Bill's wife) and Drake President David Maxwell.
TENNIS CENTER RENAMED IN MEMORY OF ROGER KNAPP
The Drake Tennis Center recently was renamed the Roger Knapp Center to honor the memory of former Des Moines native Roger Knapp, who served as the Bulldogs' men's tennis coach from 1989 to 1994.
Coach Knapp's determination, enthusiasm and commitment to excellence positioned the Drake men's tennis program for success and national prominence with the Bulldogs making their first appearance in the NCAA team championships in 1992.
The foundation he helped build lives on today as the Drake men's tennis program has won three consecutive MVC titles and has advanced to the NCAA Championship three straight years.
"Naming the Tennis Center after Roger Knapp allows this extraordinary person to serve forever as a role model for Drake student-athletes," said Drake athletics director Sandy Hatfield Clubb. "He was recognized as a scholar, a sportsman, and an elite athlete. Indeed he exemplifies the "Drake Way."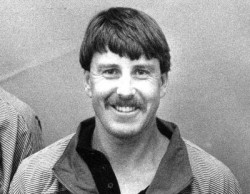 Roger Knapp
He transformed a program that owned a 3-20 record when he joined Drake in 1989, into a perennial power in the Missouri Valley Conference with nationally ranked players.
Knapp posted a 72-46 coaching record at Drake with the 1992-93 Bulldog team enjoying a 23-7 dual record. That record, at its time, was the most successful season in the history of the program.
He led Drake to two MVCchampionships in 1992 and 1993. He was named the 1992 Missouri Valley Conference and Region V Coach of the Year.
Knapp provided the vision and secured the resources to create Drake's indoor and outdoor tennis facilities, which opened in 1992.
He played professional tennis following his graduation in 1982 from the University of Southern California. During his tennis career he was ranked as one of the top 100 players in the world.
Knapp died in March of 2008 in Sarasota, Fla., as a result of complications from an aortic aneurysm. He was 48 years old.
He was the son of Drake University Trustee Emeritus William C. Knapp and Irene Knapp.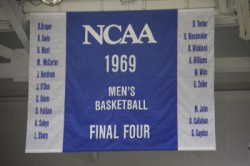 1968-69 FINAL FOUR BANNER UNVEILED; THREE JERSEYS RETIRED
They came. They saw. And they conquered.
Whether one is talking about the past or the present, the subject line is always the same when talking about the exploits of the 1968-69 Drake basketball team which finished third in the 1969 NCAA Tournament.
A new NCAA Final Four banner with the names of the players and coaching staff was unveiled during special pregame ceremonies. A special banner saluting the architect of the team — legendary coach Maury John — also was unveiled.
John's widow, Jean, along with sons John John and Maurice John Jr., were present for the ceremonies.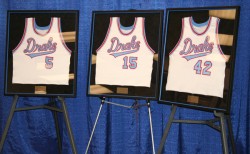 Drake recently retired jerseys of Drake basketball greats — Willie McCarter (#15), Dolph Pulliam (#5) and Willie Wise (#42).
During halftime Drake retired the jerseys and numbers of basketball greats, Willie McCarter (#15), Dolph Pulliam (#5) and Willie Wise (#42), who were instrumental in guiding the Bulldogs to a then school record 26-5 mark.
Teammates Bob Mast, Jim Nordrum, Jim O'Dea, Garry Odom, Larry Sharp, Dale Teeter and Rick Wanamaker, along with former assistant coach Dan Callahan and team manager Mike Lee, were in attendance to share the excitement.
"I'm very honored and my heartfelt thanks to all of you," Wise told the Knapp Center crowd.
"I just wish that for everybody who wore number 15 before me….this is for all of us," said McCarter. "This is a great honor and believe me, in speaking for all my teammates, we love you Drake fans and the city of Des Moines."
Pulliam wore the same light blue sport coat and Bulldog tie the team wore on road trips during the 1968-69 season.
"We were a special band of brothers," Pulliam told the crowd. "I'm honored beyond words for the John (Maury) family and all Coach John did for us. He promised us when we came to school we would get our degrees in four years. We are so proud of the honors that have been bestowed upon us."
The 1968-69 Bulldogs were one of the greatest comeback teams in college basketball history – finishing last in the Missouri Valley Conference in 1967 to an NCAA finalist spot in 1969 – from no national recognition on March 1, 1969 to a strong No. 3 national ranking on March 22, 1969.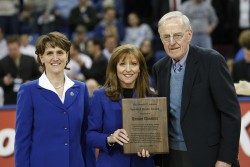 Renae Chesnut (center) celebrates the award with Sandy Hatfield Clubb (left) Don Adams (right).
DRAKE'S RENAE CHESNUT WINS SPIRIT AWARD
Drake Professor Renae Chesnut recently received the Donald V. Adams "Spirit of Drake" Award for her commitment to students, athletics and the University.
The award was presented to Chesnut, associate professor of pharmacy practice and associate dean for academic and student affairs in the College of Pharmacy and Health Sciences, at halftime during last week's men's basketball game against Creighton University.
She has served for the last eight years as faculty athletic representative to the NCAA, Missouri Valley Conference Intercollegiate Athletic Council.
Chesnut holds a B.S. in pharmacy, an M.B.A. and a Doctor of Education (Ed.D.), all from Drake.
"Renae demonstrates everything it means to be a true Drake Bulldog," said Mark Kostek, assistant athletic director for Bulldog Club Annual Fund and special events. "She embraces the principles of a student-centered learning environment, and strives to make Drake students her top priority at all times."
The "Spirit of Drake" Award was named after Adams, who has demonstrated and defined the spirit of Drake University. He has served as an administrator, mentor, role model, leader, adviser, teacher and friend to countless students, faculty and staff at Drake.
In honor of his leadership, Drake presents the award annually to a faculty or staff member who exemplifies the true spirit of the institution.