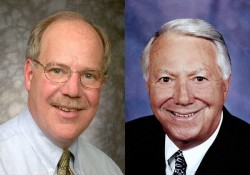 Daniel Schweiker and James Myers
Arizona business leaders and Drake alumni Daniel Schweiker and James Myers will share their expertise on entrepreneurial ventures in a presentation at Drake University on Wednesday, March 11.
The lecture is part of Drake's Spring 2009 Executive in Residence series, co-hosted by Drake's College of Business and Public Administration and the Donald V. Adams Leadership Institute. The presentation, titled "Finding Your Niche," is free and open to the public and will start at 7 p.m. in Sheslow Auditorium in Old Main, 2507 University Ave.
During their visit, Schweiker and Myers also will meet with students and faculty for an Entrepreneurial Roundtable Discussion, interact with participants in Drake's Emerging Leaders Collaboration and participate in a question-and-answer session for student leaders.
Schweiker
, a 1976 Drake Law School graduate, has been co-chairman of China Mist Brands, headquartered in Scottsdale, Ariz., since it was founded in 1982. China Mist Brands was the first business to introduce gourmet fresh-brewed iced tea to the food service industry and has grown into a nationally recognized market leader for specialty iced and hot teas. Link: www.chinamist.com
Schweiker has won the Small Business of the Year award by the Scottsdale Chamber of Commerce in 1996 and Small Business Person of the Year award by the Phoenix Chamber of Commerce in 1994. He also received the Entrepreneur of the Year Award in Arizona, sponsored by Ernst & Young, Merrill Lynch and Inc. Magazine in 1993.
As an active member of the community, Schweiker serves as vice chair of Friends of Public Radio Arizona. He is an honorary community champion as part of Teach for America, a board member of the Scottsdale Convention and Visitor Bureau and an advisory board member of Audrey's Angels, a charity providing living assistance to senior citizens in Phoenix.
Myers
is chief executive officer of Myers Management & Capital Group, a firm located in Phoenix that assists some 70 CEOs across the nation in developing and growing their businesses.
He is a member of numerous boards of directors of public and private corporations and serves as chief executive officer of CMC Golf Inc.
Myers previously served as CEO of Nationwide Industries, New Hermes and the Victorio Companies. He also was chief operating officer and general manager of multiple Fortune 500 companies including Sunbeam Corp., Dart Industries and Questor Corp.
In addition, Myers is active with the Central Arizona Shelter Services for the homeless and St. Christopher's Inn, a shelter for homeless and addicted men, in New York. He has been named Arizona Humanitarian of the year by the National Conference of Christians and Jews.
Myers attended Drake in 1952-54 and received a bachelor's degree from Northwestern University.