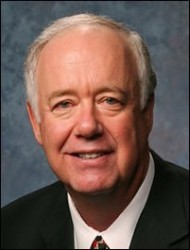 J. Barry Griswell
MEDIA CONTACT: Tory Olson, 515-271-1834, tory.olson@drake.edu


Drake University's spring "Let's DU Lunch" series
will continue on Wednesday, March 4, with a program featuring J. Barry
Griswell, president of the Community Foundation of Greater Des Moines and
former president and CEO of The Principal Financial Group.
The event, which is open to the public, will be held at
AllPlay, 615 Third St. in downtown Des Moines. Networking begins at 11:30 a.m.,
followed by lunch and the program at noon.
Griswell has more than 35 years of experience in the
financial services industry, including more than 20 years in executive
management at The Principal Financial Group. Prior to his position at
Principal, Griswell worked for the Metropolitan Life Insurance Company, most
notably as president and CEO of MetLife Marketing Corp.
He is active in various industry and community
organizations, serving on several boards throughout the United States. He also
is a board of trustees member of Central College in Pella, Iowa, and Berry
College in Rome, Georgia.
Griswell was inducted into the Iowa Business Hall of Fame,
received the 2003 Horatio Alger Association Distinguished American Award and
was the 2004 recipient of the Ellis Island Medal of Honor.
This spring's final "Let's DU Lunch" event will be
held Wednesday, April 1, with a lecture by David Maxwell, president of Drake
University.
Cost is $17 per lunch. Reservations are recommended due to
limited seating. Drake University and the Greater Des Moines Partnership
sponsor the luncheon series.
For more information or to register for "Let's DU
Lunch," contact Betty See in the Office of Alumni and Parent Programs at
515-271-2500 or betty.see@drake.edu.