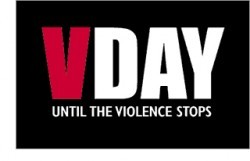 MEDIA CONTACT: Tory Olson, 515-271-1834, tory.olson@drake.edu
Drake University will celebrate the 11th
anniversary of the international V-Day campaign with performances
of Eve Ensler's award-winning play "The Vagina Monologues" on
Feb. 26-28.
Each performance (Thursday, Friday and Saturday)
will begin at 7 p.m. in Bulldog Theater in Olmsted Center, 2875 University Ave.
Proceeds will go to Muna Legal Immigration Clinic, which offers free legal
services to victims of violence.
Prior to each performance, there will be a
"Vagina Carnival" beginning at 6 p.m. The carnival will include a
bake sale, raffle, silent auction and informational booths by both student and
community organizations raising awareness of women's issues.
In addition, a reception sponsored by Planned
Parenthood will follow Saturday's performance.
The V-Day campaign was founded by Ensler, author of
"The Vagina Monologues," to help raise awareness about violence
against women.
Tickets for all three performances are $12 for the general
public and $8 for students with a Drake ID. Tickets, which will be available
for purchase at the door, also are available through the Drake Student Life
Center in Olmsted Center.
The performances are sponsored by Drake's Students for
Women's Issues.
For more information, contact Miranda Dupont at Miranda.dupont@drake.edu.