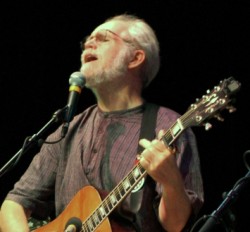 Charlie King
CONTACT: Shahmeer Aarbi, 515-771-2768, saaw@drake.edu;

Lisa Lacher, 515-271-3119, lisa.lacher@drake.edu
Drake University student activists will hold a benefit concert, featuring political folk singer Charlie King, at 7:30 p.m. Saturday, Feb. 28, in Cool Beans on the upper level of Hubbell Dining Hall, 1315 30th St.
The fundraiser is free and open to the public; however, the sponsors request a $10 donation from the public and a $5 donation from students. Donations will benefit Direct Aid Iraq, a humanitarian relief project supporting Iraqi refugees by funding crucial medical expenses.
Charlie King, political storyteller and musical satirist, has toured the nation, working with various peace and human rights organizations. He was a winner of the 1998 Peacemaker Award by the War Resister's League. His lyrics have been recorded and performed by many other artists, including Arlo Guthrie and Pete Seeger.
The concert is co-sponsored by Drake's Student Activists Against War and Des Moines high schools' Students Beyond War.
For more information, contact Shahmeer Aarbi at 515-771-2768 or saaw@drake.edu.