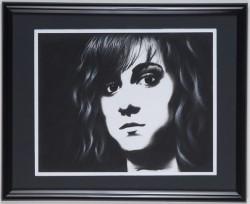 Hannah Boom, self-portrait, charcoal drawing on paper.
CONTACT: Heather Skeens, 515-271-1994, heather.skeens@drake.edu; Lisa Lacher, 515-271-3119, lisa.lacher@drake.edu
Drake University's 38th Annual Juried Student Art Exhibition opened with a reception Sunday, March 1, in the Anderson Gallery in the Harmon Fine Arts Center, 2505 Carpenter Ave.
The exhibition, which will continue through March 27, is free and open to the public.
During the opening reception, 16 awards were presented for first, second, third place and honorable mention, all funded by the Thad Archie Memorial Fund. The Provost Purchase Award also was announced. For this award, faculty members in the Department of Art and Design select one or two pieces for purchase to become part of the permanent collection.
Thirty-six students submitted 111 entries for the exhibition, including works in drawing, graphic design, painting, printmaking, sculpture and video. Artist Bill Conger was juror for the exhibition, selecting 36 pieces by 26 artists for the final display.


Conger is an independent artist and curator for the University Galleries of Illinois State University. He holds a Master of Fine Arts in painting from Illinois State, and his artwork has been featured in exhibitions in Ireland, Poland, New York and across the Midwest.
The exhibition and opening reception are supported by Friends of the Drake Arts. For more information, call 515-271-1994.