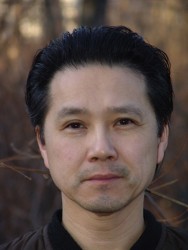 Phillip Chen
Phillip Chen, associate professor of art at Drake University, has a solo exhibition of his prints featured at Iowa Artists 2009, an exhibition sponsored by the Des Moines Art Center at its Downtown Gallery, Ninth and Walnut streets.
Chen is one of three invited artists with concurrent one-person exhibitions at Iowa Artists 2009 in the Downtown Gallery in the Wells Fargo Financial Building. Iowa Artists 2009 also features the paintings of Larassa Kabel of Des Moines, and the drawings of Timothy Wehrle of Burlington.
Chen's exhibition encompasses 24 selections from a major body of prints he has created during the past several years.
A story about his work appears on the front page of the Iowa Life section of the Des Moines Register today. Read the story, headlined "The origins of creativity," online.
He photographs the unusual artifacts he collects and complicates
their meaning by overlaying or surrounding them with schematic drawings
of other objects in his prints. Through the juxtapositions, elements of
his personal biography and family history combine with cultural issues
and political events in ghostly narratives.
A preview party was held Thursday, Feb. 19, at the Downtown Gallery,
which is open from 11 a.m. to 4 p.m. Monday through Friday. Iowa Artists 2009 will continue through May 22.
More information about Iowa Artists 2009 is available on the Des Moines Art Center's Web site.
Funding for this exhibition was provided by the Peter H. and E.
Lucille Gaas Kuyper Foundation and is supported, in part, by the Des
Moines Arts Festival.