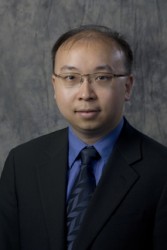 Peter K. Yu
MEDIA CONTACT: Lisa Lacher, 515-271-3119, lisa.lacher@drake.edu
Professor Peter K. Yu, the Kern family chair in intellectual property law and the founding director of the Intellectual Property Law Center at Drake University Law School, will provide an analysis of the recent WTO panel decision in Geneva, Switzerland, on Monday, Feb. 23.
The event is jointly organized by the United Nations Conference on Trade and Development and the International Centre for Trade and Sustainable Development.
In April 2007, the United States requested consultations with China concerning its failure to protect and enforce intellectual property rights in pursuance to the WTO Agreement on Trade-Related Aspects of Intellectual Property Rights.
A dispute settlement panel was established in September 2007. The panel released its decision last month, upholding some of the challenged laws while finding others in violation of the agreement.
"This panel report is important not for its conclusions, but for the reasoning behind those conclusions," Professor Yu said. "There is no point asking who wins and who loses, and both sides are likely to claim victory in the case.
"A more practical question remains: How can the resolution of this dispute be translated into substantive improvements in intellectual property protection and enforcement in China?" Yu added. "Unfortunately, the panel won't give you an answer."
Professor Yu is one the world's preeminent experts in intellectual property law and policy in China. Over the years, he has written a number of widely cited articles concerning intellectual property protection in China.
He is completing a book on U.S.-China intellectual property policy, provisionally titled "Paranoid Pirates and Schizophrenic Swashbucklers." His other China-related writings are available online.
Born and raised in Hong Kong, professor Yu is also a Wenlan scholar chair professor at Zhongnan University of Economics and Law in Wuhan, China, and visiting professor of law at the University of Hong Kong Faculty of Law.
He founded the nationally renowned Intellectual Property and Communications Law Program at Michigan State University, at which he held faculty appointments in law, communication arts and sciences and Asian studies.
Under professor Yu's leadership, the Drake Intellectual Property Law Center has been active in promoting intellectual property developments in China. The center has served as the host of three visiting Chinese legal scholars. The center also co-organizes an annual conference on Internet developments in China every year.
This summer, the center will co-organize a conference on the convergence of media technologies with the Journalism and Media Studies Centre at the University of Hong Kong.