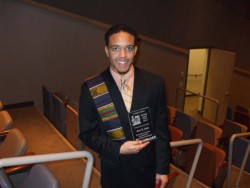 Eric Bertram Hall with his Heritage Legacy Award.
CONTACT: Tory Olson, 515-271-1834, tory.olson@drake.edu
Eric Bertram Hall, a first-year student at Drake University, recently received one of three Heritage Legacy Awards from I'll Make Me a World in Iowa for his commitment to making a difference in Iowa.
Hall, 19, accepted the Evelyn K. Davis Youth Award at the Jan. 31 Embracing Excellence Gala, sponsored by Iowa First Lady Mari Culver and Teree Caldwell-Johnson, a Des Moines School Board member.
"I am honored to have been chosen for the award," Hall said. " I am grateful to the people who made the award possible and I promise to dedicate my life to the education and empowerment of people in the black community."
The Heritage Legacy Awards recognize Iowans, both African-American individuals and organizations, whose creative and civic activities in African-American life and culture have made powerful and positive differences in their communities and country.
The Outstanding Individual Award was presented to Robert Wright Sr. and the Leading Organization Award was given to Iota Zeta Omega Chapter Alpha Kappa Alpha Sorority Inc.
The two-day celebration also featured soul food and a special guest, actress Vivica A. Fox and performances by American Idol Season 4 finalist Nikko Smith. A fine arts show displayed artwork by local African-American artists such as muralist Jill P.M. Wells, Nigeria native Edem Jimbo and New Orleans transplant Mikiel Williams, and music by Kevin Burt, Tony Brown and Effie Burt.
Hall graduated from Roosevelt High School in 2008 and is an economics and entrepreneurial management major at Drake. He is a Division I decathlete on Drake's track and field team and is active in the Des Moines community. He is the son of JD Hall and Mary Ellen Imlau of Des Moines.

A committed community service volunteer, Hall has been president of the Des Moines NAACP Youth Council, a coordinator for Young Legendz Radio Show and a member of Drake's Coalition of Black Students.
He also was an Ignite mentor and met with high school freshmen to talk about leadership and team building as part of a mentoring program at Roosevelt.
Hall has received many awards for athletics and academics, such as track and field honors, Delta Epsilon Chi Association competitions and the Academic, Athletic, Achievement "AAA" Award from the National Black Child Development Institute.
For more information on I'll Make Me a World in Iowa and the Heritage Legacy Awards, visit the Web site.