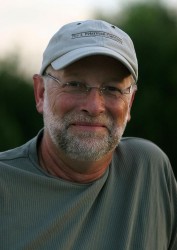 David Peterson
Two-time Pulitzer Prize-winning photographer David Peterson will present a talk about his photography as part of Drake University's "Live! at Cowles Library" series on Thursday, Feb. 19.
Peterson, a former Des Moines Register photographer, will discuss "Shattered Dreams: The Story Behind the Pulitzer Prize-Winning Iowa Farm Crisis Photographs." The talk will begin at 7 p.m. in the Reading Room of Cowles Library, 2725 University Ave. A reception will follow.
Twenty-nine of Peterson's photographs will be on display, primarily in the Library's James Collier Heritage Room, during February and March.
The event is part of Drake's Engaged Citizen Experience program, which aims to inform
students on global issues and help them understand the ways in which citizens
can confront these challenges through democracy. This year's theme is:
"Poverty, Development and Social Responsibility: Whose World is it
Anyway?"
Peterson recently began his freelance photography career and does multi-media projects for Drake and other Des Moines-area clients. He has been a photojournalist for more than 35 years, including 30 at the Des Moines Register, where he was a staff photographer and a special projects photographer.
A resident of Pleasant Hill, Peterson won his first Pulitzer Prize in 1987 for his photo essay on Iowa's Farm Crisis. The essay was published in the Register in 1986. He also received a 1991 Pulitzer Prize for Community Service for seven photographs of a court trial and a woman who was raped and came forward to press charges. The photos accompanied a story, which prompted widespread reconsideration of the traditional media practice of concealing the identity of rape victims.
He also is a three-time winner of the National Press Photographers Association Region 5 Photographer of the Year Award. The honor is awarded to a newspaper photographer working in the four state region of Iowa, Illinois, Minnesota and Wisconsin, for outstanding published work in a given year. He has received numerous local, regional and national awards.
In addition, Peterson was a judge for Pictures of the Year, the largest contest for photojournalists in the world and a White House News Photographers Association contest.
Peterson has worked on many book projects including:
"Baseball in America"
"A Day in the Life of Ireland"
"24 Hours in Cyberspace"
"The Power to Heal"
"One Digital Day"
"America 24/7"
"America at Home"
For more information or to RSVP for the event, contact Susan Breakenridge at 515-271-3994 or
susan.breakenridge@drake.edu
. RSVPs are requested by Feb. 12.