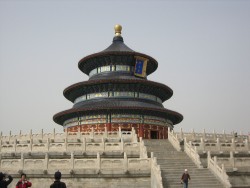 Students visited the Temple of Heaven in Beijing during the 2007 China Travel Study Seminar.
Drake University students and interested individuals from the community are invited to learn about Drake's 2009 China Travel Study Seminar by attending a free information session.
The session will be held from 7-8 p.m. Sunday, Feb. 15, in the Pomerantz Conference Room in Olmsted Center, 2875 University Ave.
The seminar will feature 26 days of travel across China from May 20 through June
14, 2009. Destinations in China include Beijing, Tianjin, Urumqi,
Kathgar, Dunhuang Caves, Tibet, Wudang Mountain, Shanghai and Chongqing, where participants will attend lectures presented by Chinese
faculty at Southwest University of Law and Politics.
Students and other participants registered for credit will earn six hours of upper-level credit under the following courses:

Study of Culture and Society 196 — Travel Study Seminar
Sociology 196 — Travel Study Seminar
Psychology 194 — Travel Study Seminar
Honors 197 — Travel Study Seminar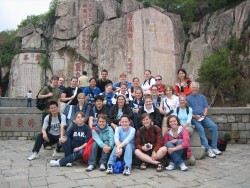 2007 China seminar participants gathered for a photo after climbing Tai Mountain (holy Taoist mountain).
Participants registered for audit can participate fully, but will not earn course credit.
At the information session, faculty will show slides of places
participants will visit in China, review the travel itinerary and
seminar syllabus, describe application procedures and costs associated
with the seminar, as well as answer questions.
For more information, contact Judy Allen, associate professor of
psychology, at judith.allen@drake.edu or Joseph Schneider, the Ellis
and Nelle Levitt professor of sociology, at joseph.schneider@drake.edu.