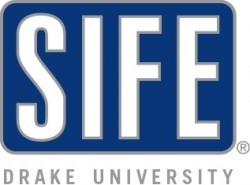 CONTACT: Deb Bishop, 515-271-3818,
deb.bishop@drake.edu
;
Lisa Lacher, 515-271-3119,
lisa.lacher@drake.edu
"Ethics in a Down Economy" is the subject of a panel discussion set for Wednesday, Feb. 11, at Drake University and sponsored by the Drake chapter of Students in Free Enterprise.
The event, which is free and open to the public, will start at 7 p.m. in Parents Hall at Olmsted Center, 2875 University Ave.
"In a down economy when people are faced with difficult choices they may be more inclined to push ethical boundaries," said SIFE President Cliffton Murove. "It is important to understand how business leaders deal with tough ethical decisions in tough times."
The panelists will be:

Mike McCoy, executive vice president and head of consumer credit cards, Wells Fargo & Co.
Matt Whitaker, U.S. attorney for the Southern District of Iowa
Phil Hodgin – principal and corporate CEO, RDG Planning and Design
Joel Worsfold, financial consultant, Wells Fargo Investments LLC
The panel discussion will be preceded by a reception hosted by Farmers Insurance Group and Drake Students in Free Enterprise. The reception, which is free and open to the public, will start at 6 p.m. in the foyer outside Parents Hall.

Students in Free Enterprise is a worldwide organization with chapters on more than 1,800 campuses across the country. Its mission is to help students apply their academic knowledge to business through outreach projects.
For more information, call 515-271-3818 or e-mail deb.bishop@drake.edu.