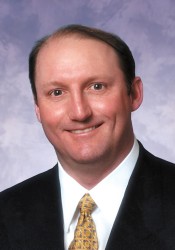 Gregory E. Abel
CONTACT: Tory Olson, 515-271-1834, tory.olson@drake.edu
Gregory E. Abel, president and chief executive officer of
MidAmerican Energy Holdings Co., recently was elected to the Drake University
Board of Trustees. He will serve a three-year term on the board, which meets
four times yearly and serves as the University's policy-making and governing
body.
Abel, 46, has enjoyed more than 20 years in the energy
industry in senior management positions. He also serves as chief executive
officer and director for a number of companies that provide electric services,
including PacifiCorp, CE Electric UK and Northern Natural Gas Co. Abel is an active member on the boards
of the Greater Des Moines Partnership, Kum & Go LC, Wells Fargo Iowa and
Mid-Iowa Council Boy Scouts of America. Abel is a graduate of the University of
Alberta in Canada.