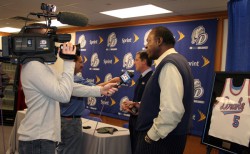 Dolph Pulliam, right, and John John, son of coach Maury John, are interviewed at the news conference.
CONTACT: Mike Mahon, 515-271-3014, mike.mahon@drake.edu
Drake Athletic Director Sandy Hatfield Clubb announced Thursday that the school will retire the jerseys and numbers of basketball greats, Willie McCarter, Dolph Pulliam and Willie Wise, who were instrumental in guiding the Bulldogs to a third-place finish in the 1969 NCAA Championships.
A special ceremony will take place during halftime of Drake's ESPN BracketBusters game against Austin Peay on Saturday, Feb. 21, at the Drake Knapp Center, 2525 Forest Ave.
The event will be held in conjunction with a 40-year anniversary celebration of the 1968-69 team on Feb. 20-21.
A banquet, honoring the team which played in the 1969 Final Four, will be held on Friday, Feb. 20, at All-Play in downtown Des Moines. Reservations to the banquet can be made by e-mailing Mark Kostek at mark.kostek@drake.edu.
Members of the 1968-69 team also will be recognized during pregame ceremonies before the 7:05 p.m. tip-off against Austin Peay.
"I'm excited and honored on behalf of our coaches and our entire basketball team," said Pulliam, who attended the Drake news conference Thursday. "Those were a special group of guys. I'm so appreciative that the University has chosen to honor us this way."
McCarter and Wise joined in through a teleconference and echoed Pulliam's comments.


Team members attribute their success to Maury John
"Without Coach (Maury) John being present in my lifetime, none of this would have happened," McCarter said from his home in Jackson, Mich.
"As I've said before, Drake University never owed a little city kid from the projects (Gary, Ind.) anything. Everything I've received all my life is because of Drake. This is just the icing on the cake for me and I'm really blessed and honored."
"I echo what my teammates have said," Wise stated from his home in Seattle, Wash. "I'm so appreciative to Maurice John. He came out and got this little kid from San Francisco and brought me to Iowa. I had never been in the Midwest, never been out of California. Yet he took a chance on me and inserted me into the starting lineup alongside these two guys (McCarter, Pulliam) and from there everything else is history. I owe basically what I am today because of Maurice John and Drake."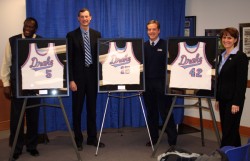 Dolph Pulliam and his teammate Rick Wanamaker stand with John John and Sandy Hatfield Clubb amid the jerseys to be retired.
The Bulldogs made a huge comeback from '67 to '69
The 1968-69 Bulldogs were one of the greatest comeback teams in college
basketball history — finishing last in the Missouri Valley Conference
in 1967 to an NCAA finalist spot in 1969 — from no national
recognition on March 1, 1969, to a strong No. 3 national ranking on
March 22, 1969.
Under the guidance of coach Maury John, Drake posted a then
school-record 26-5 mark in 1968-69, sharing the Missouri Valley
Conference regular-season title with Louisville before defeating the
Cardinals in a playoff for the league's bid to the NCAA Tournament.
Drake defeated Texas A&M and Colorado State in the 1969 NCAA
Midwest Regional to advance to the Final Four.
In the semifinal round
the Bulldogs gave two-time defending NCAA champion UCLA everything it
could handle before dropping an 85-82 setback.
Drake rebounded to overwhelm North Carolina, 104-84, in the
consolation championship behind 28 points and 10 assists from McCarter.
Drake finished third in the final 1969 Associated Press college
basketball poll. John was named the national coach of the year in 1969
by the U.S. Basketball Writers Association of America.
He died of cancer in 1974 at the age of 55.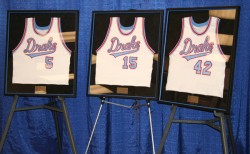 Dolph Pulliam wore No. 5, Willie McCarter wore No. 15 and Willie Wise wore No. 42.
McCarter earned All-American honors by the Helms Athletic
Foundation and was the leading scorer (20.4 ppg) on the 1968-69 team.
He was named to the 1969 All-NCAA Final Four Tournament team and also
selected the most valuable player in the 1969 NCAA Midwest Regional. He
was a two-time All-Missouri Valley Conference choice and set school
records for field goals in a season (272) and field goals in a career
(694). The Gary, Ind., native departed Drake ranked second on the
school career scoring charts with 1,626 points for a 21.1 average. He
was a 1969 first-round draft pick of the Los Angeles Lakers.
Pulliam ranked as one of Drake's best all-around performers,
renowned as a defensive star in addition to his scoring and rebounding
abilities. The vocal leader of the 1968-69 NCAA Final Four team,
Pulliam left Drake ranked No. 11 on the career scoring list and No. 9
on the career rebounding charts. After a loss at North Texas State on
Jan. 30, 1969, Pulliam gathered his teammates for a "no holds barred"
meeting, which resulted in 12 straight victories, a Missouri Valley
Conference regular-season title and the historic trip to the NCAA Final
Four. He was drafted by the Boston Celtics and also turned down a free
agent contract with the Dallas Cowboys.
Wise was a standout performer on the 1968-69 team and went on to
achieve stardom with the Utah Stars of the American Basketball
Association. Despite his 6-foot 5-inch frame, the forward shot 52
percent from the floor and grabbed a then school single-season record
343 rebounds in 1968-69 for an 11.4 average. He also ranked fourth on
the school career rebounding list with 626 boards, despite playing only
two years. Wise was named to the 30-member all-time American Basketball
Association team in 1997.