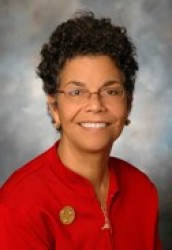 Phoebe Haddon
Phoebe Haddon, an expert on racial and gender bias, will deliver Drake University Law School's Constitutional Law Distinguished Lecture at 3 p.m. Thursday, Feb. 19, in room 213 of Cartwright Hall, 2621 Carpenter Avenue.

Haddon, professor of law at Temple University and Beasley School of Law, will present "Can the U.S. Supreme Court's 'Keyes' Desegregation Decision Unlock Opportunities to Rethink 'Brown' in the 21st Century?" The lecture is free and open to the public.
At Temple University, Haddon teaches constitutional law, torts, products liability and a seminar on race and ethnicity. She was the Charles Klein professor of law and government from 1996-98.
Haddon has been a leader in various low-income housing organizations in Philadelphia and is active in many national education-related organizations. She also has played a major role in various academic, bar and judicial committees addressing issues of racial and gender bias in the courts.
Earlier in her career, Haddon clerked for the Honorable Joseph F. Weiss Jr. on the U.S. Court of Appeals for the Third Circuit and practiced at the Washington, D.C., law firm Wilmer, Cutler and Pickering.
She graduated from Smith College with honors in 1972, attended and graduated cum laude from Duquesne School of Law, where she was editor-in chief of the law review. She received her Master of Laws from Yale Law School in 1985.
Haddon has received numerous professional honors, is the co-author of casebooks in constitutional law and torts and has written numerous articles on equal protection, jury participation, academic freedom and diversity.
In honor of the bicentennial of the U.S. Constitution, Drake University was chosen as one of four universities to receive a permanent endowment from Congress to encourage study of the American Constitution. Drake therefore created the Constitutional Law Center.
Read more about the center online.
For questions regarding the Constitutional Law Distinguished Lecture series, contact Drake Law School at 515-271-2988.