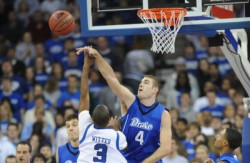 Brent Heemskerk has tied for third place on the Drake career blocked shot list with 67 rejections.
CONTACT: Mike Mahon, 515-271-3014, mike.mahon@drake.edu
Drake's Missouri Valley Conference home men's basketball
game with Evansville Wednesday night has been postponed and rescheduled for
4 p.m. today (Thursday, Jan.
29).
The Evansville basketball team was unable to fly out
because of a winter storm that blanketed southern Indiana, southern Illinois
and western Kentucky, leaving thousands of people without power.
Drake Athletic Director Sandy Hatfield Clubb said that
Bulldog fans who had tickets for Wednesday's
game, but who are unable to attend today's
game, should contact the Drake Athletic Ticket Office.
The game time was set because the Drake men's team must
play a road game at Wichita State at 4 p.m. Saturday.
"We regret this terrible inconvenience caused by Mother Nature," Hatfield Clubb said. "In an effort to support our
student-athletes and their preparation and recovery time for both the
Evansville and Wichita State games, we will play a 4 p.m. game on Thursday."
"I encourage our wonderful fans to bring their
Bulldog spirit to the Knapp Center to maintain our home court advantage,"
she added. "I appreciate our fans' understanding of this unfortunate
schedule change."
The weather also forced the Missouri State at Southern
Illinois game scheduled for Wednesday night to be
postponed until 8 p.m. today (Thursday, Jan. 29) in
Carbondale, Ill.